By Lisa Flueckiger, Senior Contributing Reporter
RIO DE JANEIRO, BRAZIL – The World Surf League's fourth stop on the world tour, the Oi Rio Pro, held in Barra da Tijuca since May 12th came to an end on Sunday, May 17th, with victories of Brazilian Filipe Toledo in the men's and American Courtney Conlogue in the women's competition.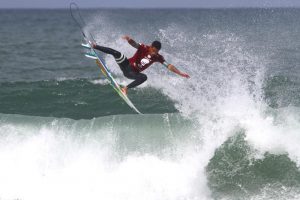 The surf competition drew thousands of spectators to the beach in Barra this weekend, even though surfing favorites, such as world champion Gabriel Medina and veteran Kelly Slater, had already been eliminated on Friday in earlier rounds of the event.
Filipe Toledo, one of the many Brazilian riders currently on the tour earning them the nickname "the Brazilian storm", dominated the competition from the start and showed two perfect ten waves, one of them in the final against Bede Durbidge.
Toledo won the final with an almost perfect score of 19.87 over Durbidge, who had managed a 14.70. Before Toledo hat eliminated fellow Brazilian Italo Ferreira in the semifinals, while Durbidge had won over fellow Australian Matt Wilkinson.
Toledo is now ranked second in the 2015 season table behind fellow Brazilian Adriano de Souza. Durbidge gained eleven positions and is now ranked 10th, while Medina is only 19th.
American Courtney Conlogue won the women's final over South African Bianca Buitendag. Conlogue managed two great waves at the start of the final, while Buitendag was struggling and only scored towards the end of the final. However, her combined score of 11.10 was not enough against Conlogue, who improved her second wave at the end as well and ended with 14.50 points.
Buitendag had before eliminated current world number one Carissa Moore in the semifinals, while current world number two Conlogue had won against Tyler Wright.