By Sarah Coursey, Editor
RIO DE JANEIRO – From CNN to the BBC, Oprah Winfrey to FOX, açaí has been universally applauded in the news media and has even earned the stamp of approval from scientists and doctors. What makes this fruit so special? After all, ninety percent of its mass is seed, which must be discarded. And it must be processed within hours of harvest to retain its nutritional properties. Moreover, it is only found in the Amazon, a place not as easily accessible as, say, the corner store. Yet açaí fever is sweeping the US and Europe, creating quite a powerful business for this once-humble fruit.
It is known by the 'indigenas' (natives) as "içá-çai" (fruit that cries). Amazon tribes have been using the berry as a staple food and medicinal cure for hundreds of years. It is usually eaten together with farinha (dried cassava powder), dried fishes and shrimps. Traditional healers treat common diseases with the fruit as well.
The secret was revealed to Cariocas in the 60s when the Gracie family, legendary Brazilian Jujitsu founders, suggested it be eaten before and after training. Impressed by their fighting skills, Rio athletes started to follow suit. In the 70s and 80s, northern Brazilians furthered the trend by bringing açaí down from the Amazon, mixed with guaraná to provide an energetic kick and sweeten the taste.
Açaí is now being sold both in retail shops and through internet health food suppliers. Whole Foods, a chain in the US and England, now stocks supplements and powders of the fruit. The buyer must beware of impostors, though, especially when purchasing online. The Better Business Bureau in the US is warning consumers against such scams. Beware of free internet trials, in which after the initial period has elapsed, companies are not contactable for cancellation.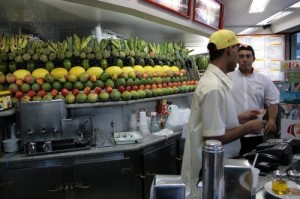 Consumers of açaí should be sure there are no synthetic ingredients in the product they are buying. Freeze-dried powder is the best choice, as its water content is removed, giving the highest phyto-nutrient concentration and ensuring it doesn't need as many preservatives. It can also be purchased in the form of skin care products, as antioxidant-rich açaí reduces free radicals and the signs of aging.
Brazil's Ministry of Agriculture has aided business owners by setting standards for açaí pulp, protecting legitimate suppliers from those making fraudulent claims. There are three recognized grades, Especial, Medio and Popular. It is law that the grade be printed on the packet. Look for Especial, which has the least water added to make the pulp.
A stereotype of açaí in Brazil, which is not at all shared outside the country, is that it is fattening. It is common to hear a Carioca woman say that she won't eat it on a regular basis for this reason. Conversely, scientists have found that açaí has 'good' fats, Omega 3 and Omega 6, fatty acids which increase BRM (basic metabolic rate) and mobilize fat tissues. In the US, there is even an Açaí Berry Diet.
Eating açaí in Rio is a dash easier (and safer) than purchasing it abroad. The quality at juice bars is second to none, and it is even available from beach vendors. The different ways to consume this healthy juice are 'açaí mix', the typical açaí and guaraná combination in a glass, served with a spoon, or 'açaí bomba', for serious athletes only, combining the energy powders guaraná, ginseng, catuaba and marapuama, Brazil nuts and cashews and sometimes egg or milk. It is also served in a bowl with granola and fruits.
With thirty times the antioxidant properties of red wine and a long list of health properties, açaí is doing wonders for its consumers and sellers alike. It's come a long way from its roots in the Amazon, to the streets of Rio and on to New York and London, and one thing is certain – the little purple berry is set to take on the world.