By Andrew Willis, Contributing Reporter
RIO DE JANEIRO, BRAZIL – A successful dredging program to widen and deepen channels in Brazilian ports has been held up due to the Navy's failure to certify the changes, according to a report by O Globo. The country's ports and other outgrown infrastructure are seen as major hurdles to stronger growth for Brazil, the world's sixth largest economy.
Brazil's National Dredging Program (PND), carried out by the Special Secretariat of Ports (SEP), has so far cost R$1.5 billion in investments, with a total spend of R$2.4 billion budgeted through to 2014.
However the Navy's reported failure to certify the wider and deeper channels has forced ship captains to continue operating off previous charts, involving more tugboat journeys, delays and ultimately greater costs.
It restricts the size of vessels able to use the ports, as well as the amount of cargo they can load. Wider channels are also designed to allow moving ships to pass each other, rather than one vessel waiting motionless, as is frequently the case at the moment.
"The problem with the [PND] is not that the dredging itself is behind schedule but that certification of the new depths and channel widths by the Navy's Department of Ports and Coasts is incomplete," says David Lorimer, President of Datamar, a provider of maritime strategic data.
"Without DPC certification (homologação) the previous shallower depths and channel widths are still the official ones.  Obviously, this restricts the size of vessels able to use the ports, as well as the amount of cargo they can load," confirms Lorimer.
Maritime stakeholders say only the port of Recife has been certified, reports the O Globo newspaper. The government denies this, saying wider channels in Recife, Rio de Janeiro, Salvador, Angra and Itaguaí have all been approved. This still leaves roughly nine ports waiting for certification.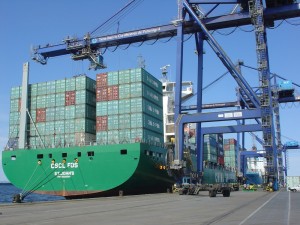 At the same time, Brazil's container shipping industry is growing at ten percent a year, and the country's farmers enjoyed record exports this year as a drought in the U.S. hit global supply. These in turn have placed added pressure on Brazilian ports, exposing the constraints on capacity.
The dredging controversy comes as the government prepares to publish plans to overhaul the Brazilian ports and airports, part of a wider R$133 billion stimulus package announced by President Dilma Rousseff in August. Plans to overhaul Brazil's road and rail networks have already been announced.
Exactly what the port plans will contain is still uncertain, although industry participants have a long wish list. It includes a lifting of Brazil's restrictive cabotage laws, more competitive pilotage rules, the scrapping of some labor organizations and the restructuring or elimination of Port Authority Councils (CAPs).
"There is still a considerable amount of doubt as to what real reforms will be possible. One we are fairly sure of is a repeal, or modification, of the decree which restricts private terminals to handling only own cargo," says Lorimer.
While the government works to execute its own plans, Brazilian billionaire Eike Batista has also suffered setbacks in building the Açu Superport, set to be the largest port in the Americas once complete. Batista's logistics company LLX is struggling to reach the US$40 billion investment goal for the project, with Nissan recently deciding to scrap its participation.