By Lise Alves, Contributing Reporter
SÃO PAULO, BRAZIL – Consumer prices (IPCA) in Brazil rose by 0.67 percent in April, registering a 0.25 percentage point decrease from the 0.92 percent hike seen in March, according to the Brazilian statistics bureau, IBGE. The reduction of the inflation rate was mainly due to the food and beverage sector and the transportation segment, according to the bureau.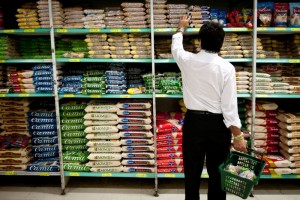 The food and beverage sector registered a decrease from 1.92 percent in March to 1.19 percent in April. The tomato, villain of the group, registered a decrease of 1.94 percent in April after a surge by 32.85 percent in March.
In the transportation segment, which fell from 1.38 percent in March to 0.32 percent in April, the IBGE highlighted air travel costs, which increased by 26.49 percent in March but registered a decrease of 1.87 percent in April.
Despite the decrease, the inflation index for the 12-month period (from May 2013 to April 2014) was higher, at 6.28 percent, than in the previous 12 months.
The cities of Rio de Janeiro, Porto Alegre and Curitiba surpassed the inflation target ceiling in the 12-month period ending in April 2014. During the period, according to the bureau, the IPCA increased by 7.69 percent in Rio, 6.84 percent in Porto Alegre and 6.63 percent in Curitiba.
Brazil's Conselho Monetario Nacional – CMN (National Monetary Council) established the center of the inflation target at 4.5 percent, with a two percent leeway in each direction.
According to Luiz Awazu Pereira da Silva, director of International Relations and Regulation of the Financial System at Brazil's Central Bank, the institution continues to "work towards assuring monetary stability and bringing the IPCA closer to the target in the near future."
Read more (in Portuguese).
* The Rio Times Daily Updates feature is offered to help keep you up-to-date with important news as it happens.