By Lise Alves, Senior Contributing Reporter
SÃO PAULO, BRAZIL – A nationwide bank strike in Brazil entered its sixteenth day on Thursday, with no end to the negotiations in sight. With almost 14,000 branches and forty administrative centers closed, strikers are determined to hold out for their demands, leaving the population to conduct their financial transactions through the Internet or lottery houses.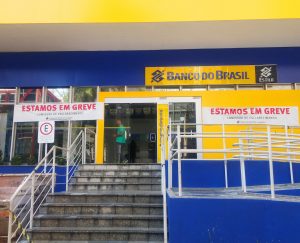 "I was laid off last week and am unable to get my workers' compensation fund because of the strike," exclaimed Adilson Silva to TV União reporter as he tried to enter yet another closed branch. "How am I supposed to pay my bills, mortgage, without the (compensation fund) money?" he asked visibly frustrated.
Bank employees and representatives from the financial institutions have met eight times since the strike began on September 6th, but seem no closer to reaching a deal.
"Fenaban continues to reject a decent proposal and the workers and the people are penalized," says Robert von der Osten, president of CONTRAF-CUT (National Confederation of Financial Workers). According to the union leader this strike has the largest number of closed branches and worker participation in history.
On September 9th, three days after the start of the strike, Fenaban officials announced they would increase their offer of salary hikes from 6.5 percent to seven percent, but the offer was not accepted. Workers on strike demand almost fifteen percent (the inflation of the previous year plus a five percent wage increase)
Last year bank employees spent 21 days on strike in October, and at the end, settled with financial institutions on a ten percent increase in wages, fourteen percent increase in meal ticket values and participation in profits and results.