By Ben Tavener, Contributing Reporter
RIO DE JANEIRO, BRAZIL – Brazil is set to import more from China than ever in 2011, with total imports from the country amounting to US$21 billion so far this year, an increase of 35 percent, figures from Brazil's Ministry of Development, Industry and Commerce (MDIC) show.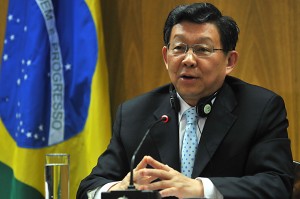 Nevertheless, Brazil's solid global position as a worldwide exporter of iron ore and foodstuffs – such as soy beans, coffee, sugar and meat – underlines why, in terms of total exports, Brazil still sells more to China than it buys, with sales totaling $29 billion to August this year.
That trade surplus may show Brazil in a good light in terms of exports, but the numbers mask the fact that that there is actually a record trade deficit in terms of manufactured goods, according to a study by influential business group FIESP (Federation of Industries of São Paulo State).
"The relationship with China is important for Brazil, but from the point of view of industry, it's abysmal," said FIESP's Roberto Giannetti da Fonseca earlier this year. "The trade balance is only favorable because of the large quantity of commodities exports and high international prices."
Imports of Chinese manufactured goods outpaced exports by $23.5 billion last year, up sixty percent on the year before – in stark contrast to the situation just eight years ago when Brazil was exporting more manufactured goods, the group reported.
But Steve Rimmer, partner at financial experts KPMG in Rio de Janeiro, says that China is still very important to Brazil for two major reasons: "Clearly, the commodity exports from Brazil to China have been an important contributing factor to the [overall] strength of the Brazilian real: the export of iron ore alone from Vale to China is extremely significant."
"Secondly, Brazil needs capital investment, and now the Chinese have started to invest more in Brazil across a variety of industry sectors," he said in an interview to The Rio Times.
One of the sectors that Brazil wants to see China investing more in is the car manufacturing industry. Currently, China exports the cars it sells in Brazil pre-assembled, but Chinese car giant Chery has agreed to the construction of a production base in Jacareí, São Paulo State, that should be finished by 2013.
Other companies probably need to follow Chery's lead, as Brazil recently imposed a stinging higher rate of IPI (Industrialized Products Tax) for cars imported into the country. In order to avoid the tax, manufacturers have to assemble the majority of any car within Brazil, providing local jobs and services.
"The government said it is making the change in order to increase the competitiveness of Brazilian products and to stimulate production in Brazil. It is both [a form of] protectionism and an incentive to foreign companies to consider inward investment," explained KPMG's Steve Rimmer.
"Chinese cars still only represent smallish percentages of cars sold in Brazil but it certainly looks as if the Chinese manufacturers will be harder hit than those of any other country," he said.
Some companies are contesting the rise – which could possibly become a bone of contention for Brazilian-Chinese business relations. Purchases of foreign cars, which are Brazil's second-biggest imported good, are up 45 percent, according to business edition Bloomberg.
Experts are also looking to see how the recently weakened real – which plunged to a one-year low in recent days against a strengthening dollar, and is faring worst among the major currencies – will affect imports and exports.
A weaker real means that imports will be more expensive, especially manufactured goods, but there is a silver lining to this cloud. This should help exports of semi-manufactured and manufactured goods and translate into an increase in sales of products such as textiles, shoes and cars, says Rimmer.
Total imports to Brazil reached $147 billion in the period to August this year (up 29 percent). Exports reached $167 billion (up 32 percent), bolstered by higher commodity prices and strong sales in this area, Bloomberg reports. In 2009, China surpassed the United States as Brazil's major trading partner.