By Ben Tavener, Senior Contributing Reporter
RIO DE JANEIRO, BRAZIL – The president of Brazil's Banco Central (Central Bank, BC) Alexandre Tombini has signaled that Brazil will continue to defend itself from short-term capital flows that threaten to destabilize its economy and its attempts to reduce inflation. The strategy is a reaction to stimulus measures being implemented by advanced economies, particularly quantitative easing (QE).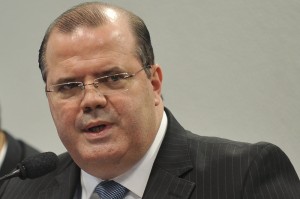 "We have the conditions to protect ourselves and we are doing that, and we will continue doing this if necessary," Tombini said in Tokyo at a meeting of the International Monetary Fund (IMF), warning Brazil did not wish to become "a marketplace for other countries' devalued currencies."
Tombini was responding to comments made by U.S. Federal Reserve chairman Ben Bernanke, who has cast doubt over the recurring assertion by Brazil that America's third and most recent round of quantitative easing was really having as much an effect on the Brazilian economy as has been stated.
"It is not at all clear that accommodative policies [such as QE] in advanced economies impose net costs on emerging market economies," said Bernanke, who is also in Tokyo, adding that the policy not only strengthened the U.S. recovery, but also helped shore up the global economy.
Brazil has been intentionally making short-term capital flows unattractive to outside markets to maintain the reduction seen in the country's now record-low interest rates, as well as weaken the country's currency – the real – in order to give domestic industry a helping hand, after its recent poor performance, Reuters reports.
Finance Minister Guido Mantega has repeatedly rebuked developed economies over their criticisms of Brazil and other emerging economies being too protectionist, instead blaming the rounds of money-printing by developed economies for Brazil's need to protect itself.
Jeffrey Frankel, Capital Formation and Growth Professor at the Harvard Kennedy School, says that "currency wars" are a useful framing to use when talking about devaluations or reserve accumulation to prevent appreciation, but that it probably does not apply to an easing of monetary policy:
"Both the U.S. and Brazil choose the monetary policy that they think they need to suit their domestic economic conditions. If the latter is looser than the former, then probably the dollar will depreciate against the Brazilian real. That is precisely the way floating exchange rates are supposed to work, so that each country can have the monetary policy it wants," he explains to The Rio Times.
Neil Shearing, Chief Emerging Markets Economist at Capital Economics, tells The Rio Times that, unlike previous rounds of QE, the current, third round is "not having much impact" on Brazil, which "appears to be attempting to shift blame from what has happened to its economy and its absence of competitiveness":
"This has much more to do with high interest rates, overly loose fiscal policies and too few advances on productivity reforms, such as cutting red tape, simplifying the tax system, improving infrastructure."
Deep structural reform is required for this to happen but is politically difficult; as a result, experts say, Brazil is unlikely to see higher growth than 1.7 percent this year. Indeed despite recently signs of a modest recovery in the Brazilian economy, both the BC and markets have projected a disappointing 1.5 percent growth for 2012.