By Sam Green, Contributing Reporter
RIO DE JANEIRO, BRAZIL – The Brazilian government has moved towards privatizing the country's five largest airports in an effort to head off concerns that the nation's transport infrastructure will not cope with the massive influx of visitors for the 2014 World Cup and the 2016 Olympics.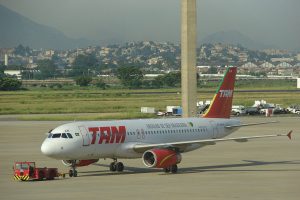 With the planned expansion of airports stalling, President Dilma Rousseff's administration will hold an auction for private companies to win the right to run commercial developments in the new terminals in exchange for building them.
Terms of the auction will be announced for Guarulhos airport in São Paulo, the Juscelino Kubitschek airport in Brasília and the Campinas airport in São Paulo state in May.
The terms for Galeao airport in Rio de Janeiro and Confins airport in Belo Horizonte will be published by early July, chief of staff Antonio Palocci said last week. Brazilian companies Camargo Correa, Andrade Gutierrez and Odebrecht are expected to compete with international firms for the contracts.
Infraero, the government-owned airport operator, estimates that the expansion of the five airports will require R$4 billion of investments. Some industry experts say the figure is far higher as Brazil, with its booming economy, may need to handle up to 310 million passengers a year, up from 130 million at present.
Brazil plans to spend R$22 billion on transport projects for the World Cup. Because of the size of the country and the lack of an adequate rail service, airports will shoulder the bulk of the extra stress. Major upgrades in facilities and security are seen as crucial to winning international respectability for air travel in Brazil, beyond the sporting events.
Earlier this month a government-backed report warned that ten of the thirteen terminals which need updating for the World Cup, which starts in June 2014, will not be ready. The Institute for Applied Economic Research laid much of the blame with Infraero, which it said, "has a low level of efficiency in the execution of investment programs."
The airport authority has been heavily criticized. Last month, Giovanni Bisignani, the director general of the International Air Transport Association, said the Infraero model was "broken" and warned that Brazil's airports would not be ready for the World Cup without major changes.
Reuters reported last month that as many as a third of Infraero's engineers are currently suspended from their normal jobs because of suspected corruption or other irregularities, although the organization denied this.
The Olympics, which will be held in Rio two years after the World Cup, may also be affected by transport problems. It is unclear whether the high-speed rail link between Rio and São Paulo, where many visitors will fly into, will be completed in time. At present it takes at least six hours to travel between the two cities by bus.
Rio's Galeao is a long way from what is expected of a leading modern city airport, while Guarulhos airport in São Paulo is notorious among business travelers for being chaotic and dirty. It was ranked the worst of 26 major airports in Latin America in a survey of business travelers by Latin Trade magazine.
Brazil is hoping that by successfully holding the planet's two largest sporting events in succession, it will underline its position as one of the world's strongest emerging nations, as China did with the 2008 Beijing Olympics.
What Brazil will want to avoid is the World Cup going the same way as last year's chaotic Commonwealth Games in Delhi, which left India nursing badly bruised national pride and dealing with a spate of investigations into corruption by officials.