By Ben Tavener, Senior Contributing Reporter
RIO DE JANEIRO, BRAZIL – The Brazilian government has restarted discussions about the installation of new nuclear reactors in the country to help relieve the nation's strained energy supplies. Also Brazil is examining the idea of allowing private companies to help finance the new plans, as has happened with other public infrastructure contracts.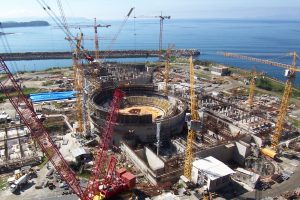 The 2007 National Energy Plan had suggested the building of four new nuclear plants, but these plans were shelved following the disaster at Japan's Fukushima nuclear plants in 2011.
The government now appears to be convinced that the currently energy mix, highly reliant on hydroelectric plants, will not satisfy growing national power demand.
"There is an understanding that a private initiative could take part in some stages of the Brazilian Nuclear Program. Nuclear energy is an alternative that has to be considered," a source at the Energy Ministry told O Globo newspaper.
The source said the government's previous experience of a 49 percent public – 51 percent private ratio, employed over the past few years for power station and network construction, had been deemed successful.
Private-investor work in the nuclear sector would, however, require a change in the constitution as nuclear fuel exploration, production and exportation are all controlled by state-owned Eletronuclear, a subsidiary of Eletrobrás. The government has now allegedly signaled its readiness to involve the private sector in limited stages of the nuclear program, such as fuel production and recycling.
Brazil currently has two working nuclear reactors, Angra I and II, in the country's only nuclear power plant in Angra dos Reis, Rio state, which together account for just three percent of Brazil's energy mix. Construction of a third reactor, Angra III, which should more than double the site's output, was finally approved in May 2010, after considerable delays, then halted following the Fukushima incident in Japan.
In Brazil the pressing question of how Brazil will meet future energy demand is firmly at the forefront of politicians' minds, particularly after recent power failures. Angra III should be operational by mid-2016, and it also been reported that four more reactors could come online in the 2020s.
A new National Energy Plan is set to be published this year, covering the period to 2050, by which time predictions suggest demand for power in Brazil could have easily tripled or quadrupled.
Low rainfall over the past two years has highlighted the downfalls of depending so heavily on hydroelectric power stations; in addition, environmentalists do not approve of plans for new Amazon-based plants. Public opinion appears to be skewing in favor of a more balanced energy mix which make use of all available options – including wind and biomass energy production.
Environmental campaigners at Greenpeace say, despite the greater need for electricity in Brazil, they remain passionately against nuclear power and condemns any plans by the government to increase the country's use of it: "Brazil must meet future energy needs using a mix of available sources – excluding nuclear, coal [and petroleum products]," said Ricardo Baitelo, Energy Coordinator at Greenpeace, which argues only lobbyists' voices being heard on the subject.
Thermal power stations – powered by coal, natural gas or nuclear fuel – are likely to plug the energy gap, and the government admits no option is perfect. Brazil has the world's six biggest reserves of uranium and advocates of nuclear power say the technology has never been safer. Over eighty percent of Brazil's power comes from hydroelectric power stations, 8.5 percent from gas, coal and oil, four percent from biomass sources, and just three percent from nuclear.