By Amy Skalmusky, Senior Contributing Reporter
RIO DE JANEIRO, BRAZIL – Spearheaded by record investment in the petroleum and natural gas industry, Brazil's job market continues to grow at a breakneck pace. Billion dollar investments by the government and private companies have created a positive landscape for job seekers, with no sign of abating.
"The demand for professionals will continue to increase. I believe we will see an even larger demand in two to three years due to project maintenance and expansion," said Rafael Faria, Head of Business Recruiting in Oil & Gas for Hays Worldwide.
With Petrobras investments of US$224 billion over the next four years as well as almost all major multinational oil companies investing in the exploration of new oil and gas fields, qualified workers are a hot commodity. An estimate from the federal government estimates that the new Brazilian oil fields will require 250,000 new professionals through 2016.
Among the professionals most in demand are operations managers, logistics managers, project managers, contract managers and engineers. According to Faria, one of the most challenging positions to fill is the Contract Manager, which requires a good amount of experience in dealing with Petrobras and its complex rules and regulations.
"Human Resource managers are at wits end," said Rose Santos, Human Resource Manager at Marine Production Systems do Brasil. "Everyone is fighting for the best professionals. Engineers are getting hired right out of college."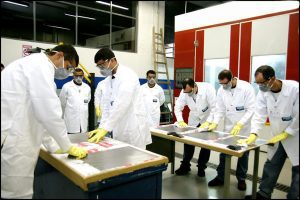 Most universities offer an undergraduate degree in Petroleum Engineering, and it has become the most sought-after course, passing medicine.
But not only managers are in high demand, skilled workers to build, maintain, repair and perform technical installations on the drill rigs, platforms, ships and other offshore and onshore structures are essential.
Training courses and programs are trying to keep up with the demand. SENAI (Professional training school) has doubled the number of professional training courses in the last four years. PROMINP, Programa de Mobilização da Indústria de Petróleo e Gás Natural, a training program developed in 2003 in conjunction with Petrobras to train 'blue collar' workers, plans to turn out 212,000 professionals by 2014.
Some companies opt to search beyond Brazil's borders to find professionals. Many of the multinational companies that previously had only a single representative in Brazil, are looking to extend their presence and have to import talent. Work visas can be a challenge to obtain though, and permanent visas also involve significant immigration procedures.
While many companies tend to import professionals from their home base, according to Santos, it is common practice to try to replace them with Brazilians within two to three years, due to the high costs.
Faria agrees, "Hiring foreigners can cost up to three times the salary paid to a Brazilian. The cost includes school for their children, moving expenses, room and board and a car."
For foreigners considering a relocation to try their luck in Brazil's heated job market, it is important to do the research and evaluate carefully.
"Maybe in three to five years it may be worth it for middle managers, but it will depend on the exchange rate and changes in governmental policy, which I don't see on the horizon," said Faria.