By Bruno De Nicola, Senior Reporter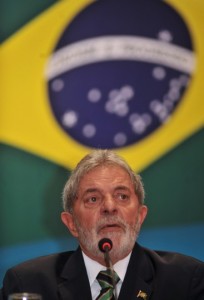 RIO DE JANEIRO – Brazilian increases in oil production, along with Russia, is threatening the OPEC's (Organization for Petroleum Exporting Countries) control over oil prices. The current view of petroleum reserves may be deceptive as production, and most of all exportation, seem to be the determinant variable of the oil market equation.
Brazil has been invited several times to become a member of the OPEC and never accepted. President Lula has other plans for a country which industrial future is set to grow rapidly.
According to official charts from the CIA World Factbook, in 2008, Brazil stood 16th (0.90 percent share) in the proven oil reserve international ranking: a position that keeps the South American country far away from OPEC members such as Venezuela that ranked 7th with a 6.41 percent or Saudi Arabia that leads the market with a 19.66 percent.
Oil reserves are the estimated quantities of crude oil that are claimed to be recoverable under existing economic and operating conditions. The total estimated amount of oil in an oil reservoir, including both producible and non-producible oil, is called oil in place. However, because of reservoir characteristics and limitations in petroleum extraction technologies, only a fraction of this oil can be brought to the surface, and it is only this producible fraction that is considered to be reserves.
Many oil producing nations do not reveal their reservoir engineering field data, and instead provide unaudited claims for their oil reserves. The numbers disclosed by some national governments are suspected of being manipulated for political reasons. That's why when it it comes to the matter one may often refer to proved or unproved reserves
Brazil is surely beneath the reserve levels of many other countries, including Canada (13.16 percent share), however the great potential of the Pre-salt area puts the country in a very interesting position.
Brazilian production has grown very rapidly since 1999, increasing by almost fifty percent over the 10 year period. Along with that, oil exports have risen quite incidentally causing the sensitive barrel price to lower because of the greater injection petroleum in the market.
According to the U.S. Government Agency EIA (Energy Information Administration) Brazilian production will rise 7.2 percent in 2009 reaching the 2.54 million barrels a day level. The U.S., China and other smaller countries have imported great quantities of petroleum from Brazil, bringing preoccupation to the OPEC members who feel threatened by the export increase from non-OPEC countries.
"OPEC has done a good job keeping oil in the $50 area, but they will have to cut substantially more, maybe more than they are capable of, if they want higher prices," said John Kilduff, senior vice president of energy at MF Global Inc. in New York. "You are going to hear greater calls for non-OPEC producers to cooperate and make cuts."
However export cuts aren't the only solution the OPEC members have been working on, at least when it comes to dealing with Brazil. The petroleum based organization has several times invited the country to become a member, however, for diverse reasons President Lula and his government always declined the proposal.
President Lula strongly believes that "Brazil shouldn't export raw materials". The country leader aims to increase national industrial production and claimed in an earlier interview that there is no reason to enter the OPEC since Brazil "wishes to export oil derived materials and not crude petroleum".