By Stephanie Foden, Contributing Reporter
RIO DE JANEIRO, BRAZIL – A new military cargo plane is going to make Brazil a contender on the world stage of military planemakers. Brazil's Embraer S.A., an aircraft manufacturing company, is promising a jet that flies higher, fuller and faster, all while at a lower price than United States-based Lockheed Martin Corp's esteemed Hercules airlifter.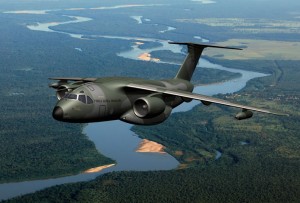 "I don't think the Hercules has ever faced such serious competition – and it's the oldest aircraft in production," Richard Aboulafia, an aviation consultant with the Teal Group told Reuters.
The Brazilian government is investing US$2 billion into the development of the aircraft powerhouse's KC-390, which will be used to transport troops, supplies and also be a tanker aircraft in flight. Brazil will buy 28 aircrafts in a contract that must be signed within the next six months.
Colonel Sérgio Carneiro, who oversees the program for the Brazilian Air Force, said the country would likely save money on the new planes compared to the lifetime cost of the Super Hercules or ongoing maintenance of its existing Hercules fleet of 22 aircrafts.
"There are people who keep riding around in antique cars – they are very wealthy people," Carneiro said in an interview at the Air Force headquarters in Brasília. "We are not a wealthy country. If only for that reason, we need a more modern plane."
Embraer executives project that the cargo plane will be used by the Brazilian Air Force to land on improvised runways from the Amazon to Antarctica. After decades of staying under the radar and fixing up old military gear, Embraer is expanding its defense industry production, with upgraded fighter jets, jungle radar system and even a geostationary defense satellite.
If the aircraft is launched by the end of next year as planned, is will surpass projects launched in the past few years out of Russia, India and China. KC-390 will be the biggest plane ever made in South America, with a belly big enough to fit a Blackhawk helicopter.
Read more (in Portuguese).
* The Rio Times Daily Updates feature is offered to help keep you up-to-date with important news as it happens.