By Will Jones, Contributing Reporter
RIO DE JANEIRO, BRAZIL – The Brazilian Tourism Institute, Embratur, has asked football's (soccer) authority FIFA to attempt to intervene in order to try and control spiraling accommodation costs ahead of the 2014 World Cup.
A recent study has shown that in hotels featured by Match, a FIFA appointed body for hotels and accommodation, the cost of a room during the World Cup will escalate to up to five times its usual price.
"We found there were excessive price increases in some hotels. […] Embratur is committed to working closely with the tourism industry to ensure visitors get as fair a deal as possible during their stay. This involves close monitoring of price changes," Flávio Dino, president of Embratur, stated.
Brazil's special tourist chief also accepted the ministry's responsibility to ensure the fairness of prices during the event and stated his intent to work with the parties involved to control the charges.
Brazilian Minister for Tourism Gastão Vieira had already announced in February that the Brazilian government would closely monitor hotel prices and intervene if necessary.
Embratur in collaboration with other arms of the Brazilian government had already been successful in reducing hotel prices during the UN environmental conference Rio+20 in 2012, where room rates had to be reduced by sixty percent a month before the conference.
Now, Embratur has asked companies to reconsider their pricing strategy ahead of the competition in order to protect the wallets of traveling fans as well as the reputation of the country when millions of tourists make their way to Brazil's host cities in June 2014.
"FIFA/Match charges mark-up rates of more than forty percent on the amount contracted with the hotel, something that contributes decisively to the increase of the already high rates. […] We propose that the companies involved conduct new rounds of negotiations to lead to a restructuring of the prices," Embratur told AP.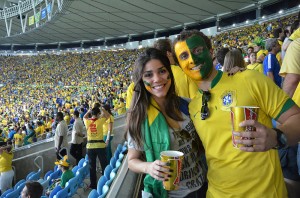 Upon hearing about this study Match told the press that they were alarmed by the findings of the report and wanted to make it clear that they will not be able to work alone in ensuring that prices are offered at considerably lower rates.
They felt that "prices are set by hotel owners and other tourism stakeholders." However, they stated that they would welcome any attempt by the Brazilian government to help lower the rates.
Fans are already searching for cheaper accommodation alternatives, such as hostels or bed and breakfast, as Rio de Janeiro has just been named world's most expensive destination for hotel rooms by the hotel.com Hotel Price Index.
"Rio hotel business had a record year in 2012 with over twenty percent revenue per available room increase driven by high rates, [although] occupancy decreased during the same period. This is explained by the increasing demand from leisure and business travelers combined with a significant lack of rooms in the city," Mise-en-place hotel consultancy managing director, Erwan Garnier explained and added that some part of the increasing demand was driven by Rio's mega-events.
The positive results should be turned into an opportunity for Brazil's hotels, "With historic positive financial results, hotel operators and owners have a great opportunity to renovate their hotel product and invest in their people in order to provide better customer service," Garnier continued.
According to FIFA the 2006 World Cup in Germany attracted round 3.3 million fans. A similar amount of national and international tourists are expected to descend on the twelve host venues in Brazil next year.