By Claire Rivé, Contributing Reporter
RIO DE JANEIRO, BRAZIL – The tourism sector in Brazil has had to adjust their inflated estimates concerning the expected influx of tourists during the FIFA World Cup in June and July this year, leading to big discounts on local and international flights and accommodation during the tournament.
Following a disappointing 2014 Carnival period, slow bookings for the World Cup has made many of the country's biggest tour agencies and airlines reduce their prices by up to ninety percent during June and July.
Demand during the World Cup month doesn't look likely to reach the Ministry of Tourism's estimated 600,000 foreign visitors and many Brazilians uninterested in the event are also seeing the nation-wide school holiday as an opportunity to dodge the madness and take family holidays to other destinations.
"Airlines set very high prices, because they believed that there would be a lot of demand, which ended up not being confirmed. Now, prices are much lower," said George Irmes, president of the Brazilian Association of Travel Agencies. Irmes added that the falling prices of airfares have contributed to average discounts of thirty percent on package tours.
TAM Airlines added an additional 750 domestic and 350 international flights to its schedule for the World Cup period, but that's not as promising as it may appear. Travel for business purposes – which normally makes up sixty percent of total domestic air travel – will be virtually non-existent during June and July, leaving carriers without a substantial part of regular bookings.
Catering for corporate clientele is far more viable for airline carriers as demand is more consistent and preferred flight times (like early mornings) are easily determined, whereas flights for the World Cup are linked to match dates and result in days of extremely high demand, followed by several slow days.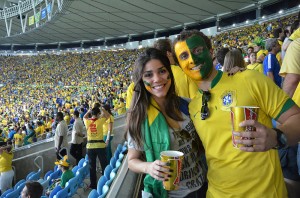 Demand for accommodation was initially high right after the 2013 tournament draw, which pushed up bookings by 54 percent, causing prices to spike. Since then however, demand has substantially decreased and prices have decreased.
FIFA has also involuntarily contributed to the reduction of accommodation rates as they recently released several hotel and flight block bookings, which are now free to be scooped up at lower prices by the general public.
With the slow demand, now is a great time for either football fans still considering planning a last-minute trip to the Cup, or locals wanting to enjoy a mid-year break to take advantage of the rates now on offer from operators. Brazil's biggest tour operator, CVC, is offering discounts of seventy percent on flights and thirty percent on local and international travel packages during June and July.
Brazil's economy has experienced a continuation of the general slow-down of the last year, and a low turnout for the world's biggest sporting event won't do much to improve national sentiment concerning the major investment that sparked public outrage in 2013. Brazil in general, and Rio de Janeiro in particular, has become notorious for being an exceptionally expensive travel destination and tourists may be rethinking it as a value-for-money destination.
With one of the highest costs of living in the world it's not only tourists who are dissatisfied, as social media initiatives are providing a platform for locals to denounce overpriced institutions and products in the city. The government has vowed to make controlling inflation a priority in this election year.