By Lise Alves, Senior Contributing Reporter
SÃO PAULO, BRAZIL – Attending the opening of the 9th BRICS Summit in Xiamen, China, Brazil's President, Michel Temer, urged the easing of economic barriers and the reduction of bureaucracy in relation to trade between the five nations and stated that the South American country welcomes foreign investments from its BRICS partners.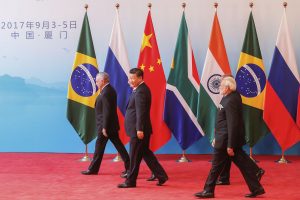 "In this moment of modernization of our economy, the prospects for who wants to invest in Brazil multiply, we have reconquered confidence and optimism," said Temer to a group of businessmen in the Chinese city.
President Temer noted recent data that show the resumption of economic growth in Brazil, with inflation under control, falling interest rates, recovery of the country's industrial production and record yields in agriculture.
The President also said that the countries of the bloc are favorable destinations for Brazilian products and investments. "The trend of growth and diversification of investment flows between our countries has been remarkable," concluded Brazil's leader.
To reporters, Minister of Transport, Ports and Civil Aviation, Maurício Quintella, stressed that the participation of foreign investors is fundamental to unlock projects in strategic areas in Brazil, especially the area of ​​infrastructure.
"Our main focus here is infrastructure. We have more than 60 infrastructure projects that are being presented not only to Chinese investors, but will also be presented to Indian, South African and Russian entrepreneurs," said Quintella.
For Agriculture Minister, Blairo Maggi, trade agreements with BRICS partners opens up an important market for Brazilian export. "We (BRICS) are five countries that hold more than half the world's population, we are a giant market," Maggi said.
According to the Ministry of Agriculture, China, Brazil's largest trading partner, imported R$17 billion worth of agricultural products last year, of which R$ 1.75 billion was beef.
During the Summit, agreements will be signed by the group's members in the fields of trade, e-commerce, finance, industry, culture and cinema.