By Lise Alves, Senior Contributing Reporter
SÃO PAULO, BRAZIL – With the recent surge of the U.S. dollar in relation to the Brazilian real, money spent by Brazilian tourists on international trips fell by almost half in September in comparison to the same month last year announced the country's Central Bank, the lowest for the month since 2010.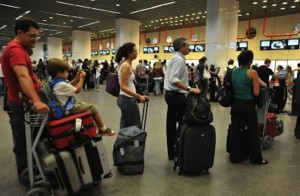 Expenditures abroad for September 2015 totaled US$1.26 billion, decrease of 46.99 percent in relation to the same month in 2014. For the first nine months of the year Brazilians who travelled abroad spent US$14.139 billion, down by 27.78 percent in comparison to the same period in 2014.
"Although air tickets are now almost half the price (in U.S. dollars) of what they were in 2014, people are not traveling abroad because they don't have money or are afraid of spending money and having the country's economic situation become worse," says Fred Farias, director of Goldtur Travel.
Ninety-percent of Farias' clients travel abroad. Now, with the surge in the foreign exchange rate, the executive says that Brazilians are opting for less vacation days and reduced shopping abroad. "We haven't seen a migration of those who were going abroad and now are traveling within Brazil because traveling around the country is usually more expensive than going to Disney," he says.
According to BRAZTOA, Brazilian Association of Travel Agencies, many domestic travel packages, which include air ticket and hotels for the upcoming summer season in the Northeastern part of Brazil, cost more than the same vacation in the Caribbean.
Farias, agrees, stating that his clients either go ahead and travel abroad or decide just to cancel travel plans altogether. "What we have seen is instead of a fifteen day trip, a reduction to a ten-day vacation. Instead of visiting five Disney parks in Orlando, visiting just two," concludes the executive. According to Farias if in 2014 his agency sold fifty air tickets and travel packages abroad, today they are selling around thirty.
And while the appreciated U.S. dollar discouraged Brazilian travelers from spending money abroad, it has not yet attracted extra number of foreign visitors to the country. Revenues from foreigners visiting Brazil were stable in September compared to the same month last year at around US$486 million.
The accumulated total for the year even shows a decline in foreign revenues. For the first nine months of 2015, foreigners spent US$4.3 billion, while during the same period last year revenues brought in by international visitors totaled US$5.35 billion.