By Lucy Jordan, Senior Contributing Reporter
BRASÍLIA, BRAZIL – Brazil's trade surplus hit a ten-year low in 2012, with the global downturn in consumer markets dragging down sales abroad. The trade surplus – calculated by subtracting total annual imports from total annual exports – was US$19.4 billion last year, falling 34.8 percent from the US$29.8 billion surplus posted in 2011, the Ministry of Development, Industry and Foreign Trade said on Wednesday.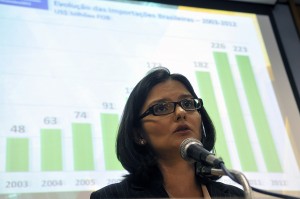 Exports fell 5.3 percent in 2012 to US$242.6 billion, down from US$256 billion in the previous year and marking the first annual decline in exports since 2009. Sluggish recovery in the United States and a slowdown in China diminished demand for consumer goods, while decreasing iron ore prices brought down the total value of Brazil's exports.
However, export levels remain historically high, the Secretary of Foreign Trade, Tatiana Prazeres pointed out.
"We are on the same level as 2011, when Brazilian exports grew 27 percent compared to 2010, placing them at a very high level. Therefore, the drop of 5.3 percent this year, does not take us away from this historic and record level," she said in a statement released Wednesday.
The ministry expects that 2013 exports will benefit from the US recovery, rallying growth in China and a recovery in the price of iron ore.
Imports, which totaled US$223.142 billion, also fell, but by only 1.4 percent from their 2011 level. In 2012, for the first time, China was the main source of Brazilian imports, with purchases from that country of US$34.2 billion, overtaking imports of US$32.6 billion from the US. Following were imports from Argentina (US$16.4 billion), Germany (US$14.2 billion) and South Korea (US$9.1 billion).
The main markets for Brazilian exports in 2012 were China, at US$41.2 billion, the United States, with US$26.8 billion and Argentina, which imported US$18 billion of Brazilian goods. Some Brazilian exports achieved record sales last year, including US$6.595 billion in sales of soybean meal and US$5.359 billion of maize.
Read more (in Portuguese)
* The Rio Times Daily Updates feature is offered to help keep you up-to-date with important news as it happens.