By Lise Alves, Senior Contributing Reporter
SÃO PAULO, BRAZIL – The National Consumer Price Index (IPCA) in Brazil rose by 0.18 percent in November, according to the IBGE (Brazilian Statistics Bureau). This is far lower than the 0.26 percent registered in October 2016, and according to the Bureau this is the lowest index for November since 1998.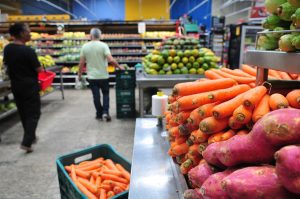 The two categories which pressured inflation downward in November were the food and beverage sector and the household goods sector, registering a deflation of -0.05 percent and -0.01 percent respectively.
In the food and beverage sector, the three items that registered the greatest decrease were beans (-17.52 percent), followed by tomatoes (-15.15 percent) and potatoes (-8.28 percent).
On the other hand the price of onions rose by 6.09 percent, manioc flour by 4.26 percent, and fish by 3.47 percent during the month. In the household goods sector, common domestic appliances prices as well TV, audio and IT goods decreased by -0.92 percent.
The sectors which registered the highest inflation rate in November include health care (+1.07 percent) and personal expenses (+0.47 percent).
With regards to inflation rates in Brazil's largest metropolitan areas, Recife registered the greatest increase in inflation rates, rising by 0.60 percent, followed by Campo Grande, with an increase of 0.43 percent. The metropolitan area of Goiania registered the lowest inflation, of -0.31 percent.
With this latest inflation result, says the IBGE, the accumulated inflation for the year stands at 5.97 percent, well below the 9.62 percent registered for the first eleven months of 2015.
For the twelve months ending in November, the inflation rate was 6.99 percent, down from 7.87 percent of the previous 12 months.
Although lower than in recent months, inflation continues above the annual inflation target ceiling established by Brazil's Central Bank, of 6.5 percent per year.