By Jay Forte, Contributing Reporter
RIO DE JANEIRO, BRAZIL – After a sharp fall on Monday (April 11th), the U.S. dollar closed below R$3.50 for the first time in eight months. The Brazilian real (BRL) has been rallying against the dollar and is up 2.83 percent in April already, and 11.48 percent in 2016.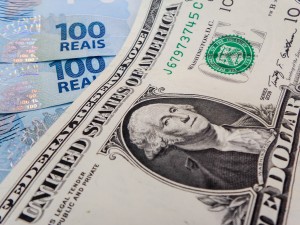 Yesterday the dollar fell by R$0.102 (-2.83 percent) and closed the day sold at R$3.495 on the market. The price was at the lowest level since August 21st last year when it was sold at R$3.46.
In the last month the real has made gains, on March 18th the Brazilian real had hit its seven-month high at R$3.582/US$1, and March 10th its six-month high at R$3.641/US$1.
The euro also had a strong fall. The European currency fell R$0.108 and closed the day sold at R$3.987, down from R$4 for the first time since November 25th last year.
In the São Paulo Stock Market, the day began the session high. In late morning it had climbed by more than one percent, but the trend reversed in the afternoon. The index ended Monday with a fall of 0.25 percent at 50,165 points.
Financial advisor and British expatriate living in Rio, Amit Ramnani of Ipanema Wealth, shares his assessment. "The Brazilian real has been extremely volatile in recent months and we believe the recent strengthening is an over optimistic reflection of potential regime change."
In terms of where things will go in the next few months, Ramnani adds, "Many high-profile investors are still betting on a weakening to the R$4.0/US$1 to R$4.5/US$1 range and waiting patiently for this potential outcome."
Yesterday, analysts reported that the dollar fell despite the strong performance of the U.S. Central Bank, which bought dollars in the futures market to try to hold the fall.
The surge in the real follows other encouraging news as financial institutions lowered their forecast for inflation in 2016 for the fifth consecutive week, according to the weekly Central Bank Focus Survey. The survey, however, also showed the expectation of further decrease in the country's annual GDP growth.