By Ben Tavener, Senior Contributing Reporter
RIO DE JANEIRO, BRAZIL – The UN's milestone Rio+20 Conference on Sustainable Development has been keen to invite a broad range of interests to shape the outcome of the summit. This philosophy of inclusion has been championed at the Dialogue Days, at which members of civil society, NGOs, the private sector and other groups have debated a range of topics from sustainable practices in agriculture, to social welfare and poverty, to the state of the oceans.
This year the summit's private sector participants have been particularly proactive, as they are not only directly affected by any potential long-term commitments that governments sign up to, but are also on the front line in terms of implementing them.
"Business plays an essential role in putting sustainable development into practice, and we are already seeing many commitments by businesses to more sustainable practices, such as improving supply chains or reducing their company's carbon footprint," the UN's official Rio+20 spokesperson Pragati Pascale told The Rio Times.
Some 2,000 business leaders attended the UN Global Compact's Corporate Sustainability Forum and, according to Ms. Pascale, a number of commitments have already been announced.
Among them are; retailer H&M has pledged to procure 100 percent of its cotton from more sustainable sources by 2020; Dupont plans to introduce 4,000 new products to increase food production and Procter & Gamble has set goals to use fewer petroleum-based materials and increase cold-water laundering.
One of the biggest areas in which sustainable business practices are critical is in agriculture, being directly reliant on environmental factors. Also the massive, ever increasing challenge of feeding the growing global population of over seven billion people, of which one billion are currently undernourished.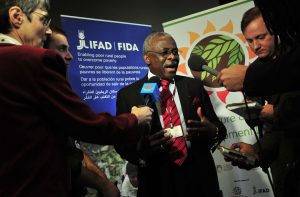 "Private sector investment is the critical ingredient to achieve sustainable agricultural development and food security. But it has to be clearly directed toward enabling small farmers to increase their productivity and incomes," says the President of IFAD, the UN's International Fund for Agricultural Development, Kanayo Nwanze.
Analysts note that while governments are temporary and often sidetracked by elections, businesses are forced to think about how their money can be spent most effectively mid- and longer-term to put them in position where they can succeed in future economic, social and environmental challenges.
The events ahead of the main Rio+20 summit have proven popular with some of the biggest global companies, including Sweden's Ikea, the American drinks giant Coca-Cola, and German technology leader Siemens, all of which have made their mark in Brazil, and all of which have been actively involved in Rio+20 – from sponsorship to paneling debates – to publicize their commitment to sustainable development.
For companies that did not make it to Rio, many people, including business figures, have tried to dispel the idea that 'going green' is an uneconomical, altruistic matter for nature-lovers, and that investing in environmentally-friendly, sustainable technology and business practices actually sows the seeds to reap long-term value creation later down the line.
"Sustainable practices make sense for businesses in several ways, but often it's the bottom line. Sustainable practices over the long term encourage efficiency and can often reduce a company's costs," concludes the UN's Pragati Pascale, adding that although slow at first, the growth seen in the green business sector now exceeds the average growth of many other economic activities.