By Jay Forte, Contributing Reporter
RIO DE JANEIRO, BRAZIL – In the heart of Rio's bohemian hilltop oasis of Santa Teresa is the Casalegre Art Vila, a guesthouse and bed & breakfast (or pousada as termed in Brazil) with an infused focus on the arts and wellness. Italian expatriate Stefano Macchi runs Casalegre with two partners and they have earned the TripAdvisor certificate of excellence for two years running in 2013 and 2014.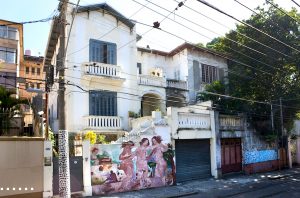 Stefano Macchi is originally from Trieste, Italy but had spent time in Rio some fifteen years ago as a young man. Years later while living in London, he coincidentally met and eventually married Carioca Fernanda Chaves, who grew up in Santa Teresa, giving him a reason (or excuse) to come back to the Cidade Maravilhosa.
Macchi shares "I'm very fortunate to travel a lot and every time I imagine myself in my client's shoes, what I like and don't like, what make the difference to me is the attention and sincerity in little things.[…] Business wise it has been a good experience so far, always growing and learning."
Daniel Almeida, who is Brazilian and one of three co-owners explained that how it started: "[The Casalegre Art Vila] 'Casalegre' was created in 2011 by three friends: Stefano Macchi, Daniel Almeida and Reana Velicogna [also Italian]. Our idea was to open a guest house to offer an authentic Brazilian experience, mixing the feeling of being at home with the services of a hotel, and always aiming into sustainability and well-being."
Located on Rua Monte Alegre in Santa Teresa, the guesthouse occupies a century-old colonial-style home, with a compact library, lounge, courtyard with vertical garden, fully equipped kitchen and an art gallery, all designed to provide a sense of peace and tranquility.
As part of its core, Casalegre supports local talents and the artistic identity of the community with The Art Space, which provides a youthful and creative environment, with temporary exhibitions and events that allow meetings and exchanges with Latin American artists of various background.
The art presence goes beyond the gallery and permeates the rooms and other common spaces. Every art piece can be purchased in case of interest, as well as the art objects and handcrafts of their Concept store.
Casalegre Art Vila also regularly organizes activities to promote wellness and health, encouraging sustainable practices and celebrating life. As their web site explains, "Experienced professionals are at hand if you are into yoga, massages and dancing."
For larger events and workshops, the team at Casalegre opened the Brickhouse, which is just five minutes walking distance away. The Brickhouse is a new villa, with three floors built from wood and brick in a relatively modern design. Along with offering accommodations, the ground floor is the new headquarters for all well being activities.
One such event coming up Saturday, July 11th is the Yogi Basics & Yoga Alignment Workshop Rio de Janeiro put on by Brooklyn, New York (U.S.)-native Kami Jones. The session promises "[…] a hands-on interactive alignment and yoga basics workshop, as [Kami Jones] breaks down the proper alignment for core poses such as chaturanga, downward and upward facing dog, plank pose, Warrior I, II, and III, and plenty others!"
All this blends naturally with the neighborhood, and Almeida adds, "Being in Santa Teresa is like being in a small town but inside the city of Rio. Just five minutes to Centro [and Lapa], it has the tranquility and it's not so touristy as the beach areas but still offers great options for gastronomy, culture and nightlife."