By Anna Kaiser, Contributing Reporter
RIO DE JANEIRO, BRAZIL – ChefsClub is a restaurant discount service which started in 2011, initially in Rio, and is currently expanding throughout Brazil. With a low membership fee, users get major discounts at 235 (and growing) top quality restaurants in the Cidade Maravilhosa, making eating out easier than ever.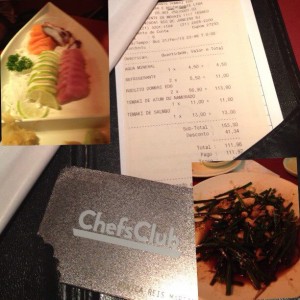 The idea behind ChefsClub is to make eating out more affordable because while Rio boasts hundreds of top quality restaurants, few are known for being inexpensive. Now, being a member of ChefsClub gives you discounts of 30 to 50 percent off at some of Rio's finest restaurants.
A ChefsClub membership for one year is R$99 total, or R$8.25 a month. For those who want to test out the service, or are in Rio for a shorter amount of time, there is a three-month membership option for R$45, or R$15 a month.
Participating restaurants range from sushi, Asian and Mexican to traditional Brazilian churrasco (barbecue) and Northeastern cuisine.
"Because of the size of Brazil, there's not only one typical dish or type of food. Consequently, there are many different delicious dishes of the most various types to try out and also, really good restaurants to have them served at," Bruno Dias, ChefsClub board member, told The Rio Times.
ChefsClub was founded in 2011 by a Brazilian entrepreneur, Fabrizio Serra, while he was doing his masters in Copenhagen, Denmark. Inspired by MenuCard services, Serra thought a similar model could work in Brazil.
Serra started the business model while still in Europe, and gathered a local team in Brazil. With four Brazilian entrepreneurs, ChefsClub, was launched in Brazil in May 2012 and has expanded to over three hundred restaurants in four cities; Rio de Janeiro, Brasília, Belo Horizonte, and Porto Alegre.
"Danish efficiency and Brazilian creativity were crucial to the rapid growth of ChefsClub. I believe that due to these features the company became the largest Dining Club in Brazil so quickly," said Dias.
Like many entrepreneurs on the Brazilian startup scene, the ChefsClub team saw serious potential in the Brazilian market, a country on the rise economically, with an expanding middle class. "When the company was formed in Denmark, Brazil seemed as the obvious option, due to Fabrizio's (founder) network in the country and the size of the market," said Dias.
In Leblon, Asian-inspired restaurant Mekong are part of the ChefClub roster of eateries. Co-owner and English expatriate Mary Byker confirmed with The Rio Times: "ChefsClub has been good for Mekong as it has brought in new customers."
"With the card we offer thirty percent discount starter and main course. It has proved pretty popular, and is good value for the cardholder as there is plenty of choices of restaurants on offer," Byker explained. "[And] ChefsClub are very easy to work with, the method of us validating the cards is simple, I think it is a clever business idea and it is a good fit for us."
To find out more information about the ChefsClub membership, and to see a list of participating restaurants, visit the ChefsClub website. The search for restaurants can be narrowed by neighborhood (Zona Sul (South Zone), etc.), by price range (R$20-40, R$40-70, and R$70+) per dish, or by working days and by hours.