By Ben Tavener, Senior Contributing Reporter
RIO DE JANEIRO, BRAZIL – Entrepreneurs starting up new businesses in Rio de Janeiro state have been increasingly attracted by the construction sector over the past two years, new figures show. Industry analysts are looking towards the city playing host to upcoming major sporting events – the 2014 World Cup and the 2016 Olympics – as even greater encouragement for further revitalization in the area.
Although opening up clothing stores, cafés and restaurants remains Rio investors' "bread and butter" and still top the ratings, figures have shown that 2011 saw a 32 percent increase in the construction sector on the previous year, an impressive 1,625 new companies.
Figures released by the Junta Comercial do Rio (Rio Board of Trade) following a request by O Globo newspaper showed at least 530 of the newly-opened companies were registered as "small businesses."
The Federation of Industries of the State of Rio de Janeiro, Firjan, has put the figures down to a boom in new hotels and commercial buildings, which some experts have attributed to the beginning of operations to pacify Rio's favelas in 2008, which have subsequently opened up huge new markets for investment.
The federation also said private investments announced by its associates had increased 44 percent in a year, highlighting a significant improvement in the market area.
"There is a tremendous need for high quality construction companies and workers in Brazil and especially in Rio de Janeiro," Jonathan Kendall, co-founder of TSS Brazil Group – also a member of Firjan – explained to The Rio Times.
He attributes the increase in demand for new construction as made ever greater when coupled with the need to replace many existing structures which have suffered as a result of Rio's hot and humid climate, sea salt in the air, high precipitation levels and shifting soils. All of these factors have culminated in a "construction boom the likes of which Brazil has never seen," Mr. Kendall says.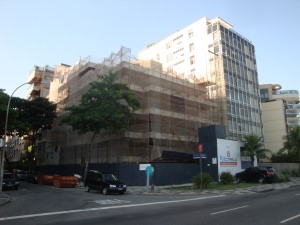 Indeed you need look no further than civil engineer Orlando Borges, who has decided to open his second construction company:
"We want to make the most of the good times in Rio. The idea is to put up buildings in the capital, Itaboraí and in São Gonçalo. We've just signed off on a deal to work on a project with a big construction company," Borges told O Globo newspaper.
But experts also warn that the building sector does have its difficulties, particularly in terms of workers lacking experience in new construction techniques and technologies, and are calling on a new drive for better standards to ensure long-lasting construction.
Our expert offers this advice for first-time investors in Rio: "The construction sector here is still a part of the older system of 'who you know'."
"Foreigners must be properly introduced into the system, and be ready to work hard. Typically this is not a quick way to make a fortune as too many think, it has to be a long-term plan to live and work here and prove their mettle," warns Mr. Kendall.
Restaurants and cafés are often seen as a good "first go" for novice investors, with a new class of Brazilians emerging who like eating out regularly, and there is a view that shops and restaurants are less vulnerable to economic downturns, such as in recent years.
But the fact that these types of stores are also the most common to close might prove these businesses are not the "easy option", as some might think.
Recently it was revealed that real estate in Rio stood at an average R$7,421 per square meter – with its two most expensive neighborhoods, Leblon and Ipanema, in some cases reaching over R$17,000 per square meter.