By Fiona Hurrell, Contributing Reporter
RIO DE JANEIRO, BRAZIL – Despite having opened just three weeks ago, New York-themed Deli Bizzara is already a firm favorite amongst the local residents of Leblon, a neighborhood in Rio's Zona Sul (South Zone). Specializing in authentic, home-cooked, Italian-style cuisine, fused with a hint of Carioca, the restaurant aims to blend traditional Italian-American ingredients with the distinctive tropical flavors of Brazil.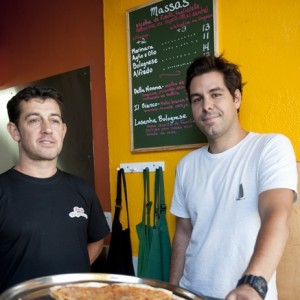 Deli Bizzara is jointly owned by best friends, Carioca Pedro Widmar and Irishman Gerry Grant.
Widmar, who already has a long history within the restaurant business from his fifteen years spent in the U.S., was adamant that the deli remain authentic to the New York-style from which he got his inspiration.
"The name Bizzara was chosen because we provide a different kind of menu here. It is very much like a Brooklyn street deli, informal and relaxed," Widmar explains.
Although the emphasis rests on Italian-American themes, the restaurant has no shortage of Carioca regulars. Widmar states, "We have a good mix of customers including a lot of American expats from the American School [EARJ] and Cariocas. Since our menu is very affordable we have a huge diversity. Everyone from Laborers to businessmen come here."
Business partner Grant agrees, adding "Everyone who has eaten here seems to come back. The menu has so much variety which means it always appeals."
For Grant, Deli Bizzara marks his first step into the world of chef and restaurateur. He goes on to explain the reasons for his new found career: "I love food, especially pizza but I never seemed to find a good pizza in Rio like you get in New York. I've always been interested in cooking and now I can't imagine doing anything else."
As house chef, Grant is especially particular about the ingredients he uses when cooking. He states, "Fresh ingredients are very important to us," whilst Widmar adds, "I choose all the ingredients myself, handpicked at local fares and markets. As a rule, we don't buy industrial products when we can use the equivalent fresh."
The menu is the work of a careful selection process carried out by Widmar who, having previously worked as a chef, feels he recognizes the type of dishes that appeal to customers. He explains, "The top dishes are naturally the gourmet pizzas which are made using fresh dough. Alternatively, the pasta Della Nonna and our Bizzara house salad are both popular and we also do weekly specials, which if well received, become a regular feature on the menu."
As for the future of Deli Bizzara, things appear promising already. Grant and Widmar are currently in talks to commercially sell some of their specially created products, such as the immensely popular homemade tomato pasta sauce.
For now though, Widmar and Grant seem happy to concentrate on nurturing the business at a grass-roots level. Widmar explains, "Certainly we have plans for the future, but right now we just want to develop the restaurant, develop our delivery service and, above all, stay authentic."
The restaurant is located at Rua Doutor Marques Canario 24 ljE in Leblon, with delivery service extending to much of Zona Sul. For further details about the menu, hours and delivery service, visit the website www.delibizzara.com.