By Fiona Hurrell, Contributing Reporter
RIO DE JANEIRO, BRAZIL – Sports Minister, Aldo Rebelo, has made assurances that restoration work on the Maracanã Stadium in Rio de Janeiro will continue as planned despite the sudden departure of Delta Construction, part of the consortium responsible for the reform.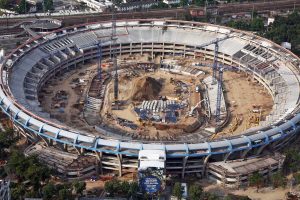 The Maracanã Stadium is being prepared to host the 2014 World Cup Finals and is scheduled to be ready for use by June 2013. Its remaining stakeholders include Odebrecht Infrastructure (49 percent) and Andrade Gutierrez (21 percent) after Delta pulled out of the project in which it was supplying the remaining thirty percent of funding.
Recent reports have suggested that the reason Delta was forced to withdraw is due to debts wracked up from involvement in illegal gambling. The construction company failed to make payments to the stadium that would have been used to pay suppliers and cover operation costs.
O Globo has reported that Delta's share is likely to be taken over jointly by the remaining stakeholders, Odebrecht Infrastructure and Andrade Gutierrez. Meanwhile, Delta's alleged gambling involvement is being investigated by Federal Police.
According to Regis Fitchner, State Government Chief of Staff "We had no official communication, but it seems so. In theory, the construction companies that are part of the consortium should take the place of the Delta."
Despite this recent setback, work on Maracanã continues at full speed. On Thursday (19th), the Consortium reported that half of the work on the stadium is already complete reinforcing the point made by State Secretary for Rio Sport and Leisure, Marcia Lins that the stadium was "more than guaranteed" to be ready on time.
Read more (in Portuguese).
* The Rio Times Daily Update is a new feature we are offering to help keep you up-to-date with major news as it happens.