By Lise Alves, Senior Contributing Reporter
SÃO PAULO, BRAZIL – Not even the major sporting events, like the Rio Olympics and Paralympic Games in August and September of 2016, were able to boost domestic air transport in 2016.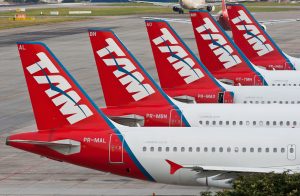 The number of passengers transported by airlines in the country decreased in 2016 for the first time in ten years, according to Brazil's National Civil Aviation Agency (ANAC).
"The number of passengers carried on the domestic market in the year was 88.7 million, a reduction of 7.8 percent over the previous year," read the statement released by ANAC on Wednesday.
The entity also noted that both passenger demand for domestic air transport and the number of seats offered (seats per kilometers) by airline companies decreased last year by 5.7 percent and 5.9 percent respectively.
On the other hand, ANAC data shows that there was a slight increase in the number of passengers per flight. The so-called load factor rate (passengers carried/available seats) in domestic flights was 80 percent last year, compared to 79.8 percent in 2015. In December 2016, the rate was 81.3 percent, the highest value of the indicator for December months since the beginning of historical series, in 2000.
The fuller flights are a consequence of the economic recession, which reduced demand for air tickets and reversed the sector's growth trend. According to a survey conducted by local media G1 survey based on data from ANAC, in 2016 the Brazilian airline fleet shrunk for the first time in 12 years losing 50 aircrafts.
The data shows that Brazil's three largest airlines, Latam, Gol and Azul, reduced their fleets by 41 units between December 2015 and December 2016. This was the first fleet reduction in the history of the three companies in Brazil.
With fewer planes, companies also end the year with fewer flights available. Together, the three companies cut 234 daily flights from the their routes during the twelve-month period.