By Ben Tavener, Senior Contributing Reporter
RIO DE JANEIRO, BRAZIL – Second biggest petroleum company in Brazil, OGX, has fared the worst in terms of market value so far in 2012 of Brazil's 295 companies publicly-traded on the São Paulo Bovespa stock exchange. Still the Bovespa has witnessed encouraging growth of R$147 billion (US$72 billion) this year, according to consultancy Economatica, who released its analysis of the year to October on Monday.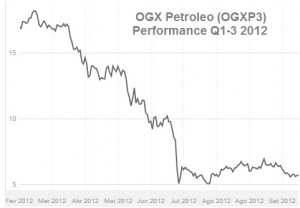 The privately-owned OGX – which belongs to multi-billionaire impresario Eike Batista's EBX Group – has seen R$25.73 billion (US$12.6 billion) wiped from its books. Two other EBX companies are also said to have performed badly.
Brazil's second biggest bank Itaú Unibanco, Eletrobras – Latin's American biggest power utility company, and mining giant Vale have also performed badly, according to the report.
Conversely, beverages giant Ambev – known for big beer brands Brahma and Antarctica, and the soft drink Guaraná Antarctica – has seen the biggest gains, up R$42.7 billion (US$21 billion), with private toll-road operators CCR, cosmetics leader Natura, and oil industry leader Petrobras following close behind – despite the oil giant posting its worst quarter in thirteen years in August.
Of all the 22 sectors traded, four have performed poorly: energy companies, petroleum industries, telecoms firms and banks, of which three (not petroleum industries) have been subjected to major government-imposed regulatory changes in recent months.
Despite the losses to his companies, Eike Batista is still Brazil's richest man and seventh wealthiest globally, with a personal fortune of around US$30 billion, according Forbes' 2012 rich list.
Read more (in Portuguese).
* The Rio Times Daily Updates feature is offered to help keep you up-to-date with important news as it happens.