By Mary Carroll, Contributing Reporter
RIO DE JANEIRO, BRAZIL – On Monday, July 9th, Brazil's Minister of Mines and Energy, Edison Lobão said that the government may increase the percentage of ethanol to 25 percent in gasoline sold, if there is sufficient production of ethanol in the country. Currently, gasoline sold at gas stations have twenty percent ethanol.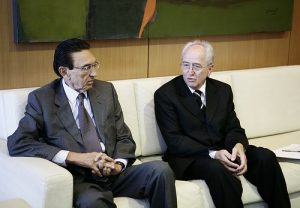 "If ethanol production continues at a level where it is today, let's keep it at twenty percent. If production improve, we will raise to 25 percent, which is our purpose," said Lobão, in Rio de Janeiro. The minister did not specify a timeframe for change.
In October last year, the government determined the decrease of 25 percent to twenty percent ethanol mixed with gasoline indefinitely as a precaution because of uncertainty about the crop of cane sugar.
Industry data reported by O Globo indicates that there will be an increase of 4.5 percent this year compared with 2011. The planned production of ethanol in 2012 is 21.5 billion liters, with consumption in the domestic market estimated at 1.7 billion less than that.
A memorandum of understanding – a formal alternative to a gentleman's agreement but not legally enforceable – with 77 countries across the world has already been put in place. Research into the feasibility of such a move was funded and carried out twelve countries (six in the Americas, and six African).
An investment of R$15 – R$20 billion over the past four years would have led to an ethanol production of over twenty billion litres by this year, which is the equivalent to one year's consumption, according to the research.
The Brazilian government also has the intention of making ethanol a commodity to enable it to be traded on the international market, therefore ensuring a market for ethanol. There is however, concern about trying to prop up an industry where production costs are still high, there is 25 percent excess capacity at the plants and low renewal rates of sugarcane.
Although, evidence suggests that the industry may manage to recover from the crisis, as there is the possibility of a high international demand for ethanol. Last December the U.S. lifted tariffs on ethanol imports that had been in place for decades, leaving the market wide open for Brazil.
The European Union may also act as another potential market as it has already pledged to increase – by ten percent – the use of environmentally friendly fuels in petrol by 2020.
Read more (in Portuguese).
* The Rio Times Daily Updates feature is offered to help keep you up-to-date with major news as it happens.