By Lucy Jordan, Senior Contributing Reporter
BRASÍLIA, BRAZIL – Continued financial turmoil in Europe is likely to diminish numbers of foreign visitors to Rio during Carnival this year, experts predict, but increased domestic tourism will likely more than compensate for the shortfall in visitors. However the different tourist profile has some concerned that lower spending levels are likely during Rio's largest annual holiday.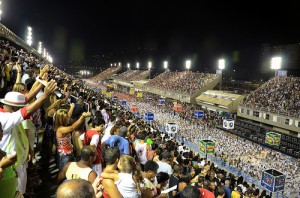 "In past Carnivals there was an average of between 65 and 70 percent of foreign tourists recorded in hotels, and the rest were Brazilians," Alfredo Lopes, the President of Brazilian Association of Rio's Hotel Industry, ABIH-RJ, told The Rio Times. "For Carnival 2013 the forecast is that this number will be equal – fifty percent foreigners and the other half Brazilian."
Domestic tourism has increased dramatically in Brazil in recent years, rising in lockstep with the move from poverty into the middle class of some 35 million Brazilians. According to figures from Brazil's Ministry of Tourism, domestic travel, measured by the number of passengers arriving on domestic flights was almost fifty million in 2010. In 2012 that number had almost doubled to ninety million.
Lopes attributes the predicted decrease in the number of foreign visitors at Carnival 2013 to the financial downturn in Europe and the United States, which also affected 2012's New Year's Eve celebrations in Rio, known here as Reveillon.
"The average occupancy of hotels in Rio stood at 92.32 percent in the New Year's Eve, about five percentage points lower than last year," Lopes said. "We attribute this decline to the crisis in the U.S. and Europe, which led to a New Year's Eve majority of Brazilians."
Another factor is the soaring cost of living in Brazil, and a August 2011 report listed Brazil's two biggest cities, Rio and São Paulo, ranked amongst the top fifteen most expensive cities in the world for expatriates – ahead of New York, London and Paris. From travel and lodging, to food and beverage, Rio is more expensive than many other options for international travelers.
Yet despite fewer foreign revelers, Lopes expects Carnival to be even more well-attended than last year, as Brazilians take advantage of their rising wages and increased access to credit to visit Rio's biggest party.
The Tourism Secretariat estimates that 900,000 people will come to Rio de Janeiro's Carnival this year, spending US$665 million.
"We hope to reach 98 percent occupation of hotel rooms in the city. In 2012, we closed the Carnival with a 95.17 percent occupancy rate," he said, adding that, "Domestic tourism for the Carnival period is equalizing with international tourism."
International tourism is still generally doing well: visitor exports reached US$7 billion in 2011, and Embratur figures show 9.24 million passengers arriving on international flights in 2012, compared to 5.8 million in 2010 and nine million in 2011.
Despite the influx of Brazilian tourists expected for Carnival, the news is still worrying for local businesses, as different spending and vacationing habits could result in weaker profits. "The domestic market generally do not buy packages that include services other than lodging," Mr. Lopes said. "More Brazilians tend to rent apartments, stay with relatives or stay in hostels. This can result in a probable loss of revenue for hotels in the city."
According to research by the World Travel and Tourism Council, around 7.7 million jobs in Brazil are supported by travel and tourism and the wider impacts of the sector, representing nearly eight percent of all employment in the country.