By Jay Forte, Contributing Reporter
RIO DE JANEIRO, BRAZIL – According to estimates by the Brazilian Tourism Institute (EMBRATUR), foreign tourists should inject US$9.2 billion (about R$22 billion) into the Brazilian economy in 2014. If these estimates are reached, it will represent an increase of 35.8 percent from 2012, when the international currency received was US$6.64 billion.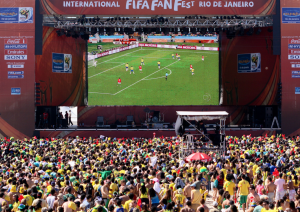 It is still unclear if 2013 will show strong incremental growth in foreign tourism after a difficult year in publicity, despite hosting the FIFA Confederations Cup and the the World Youth Day. In the first eleven months of 2013 foreign tourist spent US$6.13 billion, however year-end predictions range from US$6.6 to R$7.7 billion.
The huge growth expected in 2014 is due to hosting the 2014 FIFA World Cup, which takes place between June 12th and July 13th across twelve Brazilian cities. The month of football (soccer) is estimated to see 600,000 foreign and three million Brazilian travelers.
EMBRATUR has already predicted tourists from Brazil and abroad will spend R$25 billion during the World Cup, most of this spending is will be by Brazilians, estimated at R$18.3 billion during the competition. The last country to host the World Cup, South Africa, saw its tourist exchange earnings threshold jump from about US$9 billion (R$20.7 billion) before the 2010 World Cup to US$11 billion.
In 2014 Brazil expects to see seven million foreign tourist, which will be a record. "The presence of seven million tourists probably means generating [higher revenue than] the auto industry and the pulp and paper industry resources in Brazil, showing the economic importance of tourism and therefore the need for public and private investment, as it has the expansion of the hotel chains," said the president of EMBRATUR, Flavio Dino.
According to Dino, Brazil must welcome foreign tourists, and increase investments in infrastructure (such as airports) and teach foreign languages ​​to professionals who have contact with these tourists. "I have great confidence in the need for investments and competitiveness, i.e.: public policies and private actions to ensure fair prices for these tourists may be welcomed and also economically encouraged to return to Brazil," Flavio Dino said.
Read more (in Portuguese).
* The Rio Times Daily Updates feature is offered to help keep you up-to-date with important news as it happens.