By Ben Tavener, Senior Contributing Reporter
RIO DE JANEIRO, BRAZIL – The term 'green building' is most commonly referring to sustainable building practices and environmentally conscious construction, wide-ranging concepts including everything from energy efficiency to waste management. Recent reclassification and investment in some of Rio's sprawling favela communities has the green industry gaining momentum in Brazil, alongside the U.S., Israel and China.
"We're talking not just about potentially transforming the lives of those living in the favelas, but about improving the lives of Brazilians everywhere," says Jonathan Kendall, co-founder of green consultancy Rio Energy Consulting.
The consultancy's marketing material explains that Brazil, already a world leader in bio-fuels, especially ethanol, and hydroelectricity, will invest another US$5.5 billion in renewable energy sources through 2013.
"Favelas present the opportunity to usher in a new Brazilian Clean Technology sector. Not just the next "big thing", but perhaps the biggest thing ever. It's a multi-trillion-real business opportunity," Kendall says.
In terms of specific technologies, many are watching a new hydride battery – the company says – which could also be used for general electrical storage and, perhaps most importantly, air conditioning and refrigeration systems.
Existing green technologies being proposing include improved LED and induction lighting, which use far less energy and last three to five times longer than sodium bulbs, saving fifty to seventy percent in energy costs.
Effective refuse management is another key area the company wants to target, suggesting specialized miniature waste collection vehicles or pickups capable of navigating Rocinha's tight streets, tackling the issue of waste removal.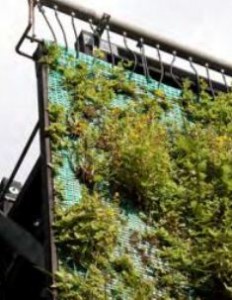 Other professionals in the space are focusing on the opportunity of low-tech solutions, with easy installation and maintenance, which may be better suited for these communities.
"Field researchers need to think first and foremost about the real needs of the target group. The idea of a test bed for green technologies in [favelas] is only desirable when sustainable and developed together with the people that live there," says green engineer and architect Sicco Schmidt, speaking to The Rio Times.
"Install a natural cooling system using local resources, such as using vertical gardens, green roofs, natural ventilation, passive cooling. Why would you need a high-tech filter for drinking water when you could just fill up a couple of transparent PET bottles and let the sun's natural radiation do the job for free?"
Those waiting to implement new technologies believe Brazil can use its experience and position in the green building world, as well as incentives brought by the 2014 FIFA World Cup and the 2016 Olympics, to develop its use of renewable energies and green technologies further.
Critics question why these technologies would be focusing on favela communities, but in June, over forty of Rio's favelas were to lose their 'unofficial' status and be reclassified as official municipal 'urban communities' under new city hall minimum quality standards.
In November Rio's largest favela neighborhood Rocinha was pacified, often considered to be the largest favela community in Brazil, with an estimated 150,000 residents (some say as many as 300,000) it represents massive development prospects.
Previously Rocinha had only one engineer from an urban planning group called Pousu (Landing) appointed to oversee construction, but a new policy will allocate a staff of ten engineers and architects as well as ten community workers to Pouso, exclusively dedicated to Rocinha.