By Lisa Flueckiger, Contributing Reporter
RIO DE JANEIRO, BRAZIL –The 23rd General Conference of the International Council of Museums (ICOM), the main international gathering of museum professionals, will this year take place in Rio de Janeiro from August 10th to 17th. The British Council supports the conference within its "Transform the museums" program.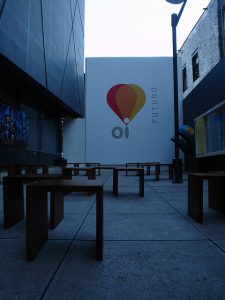 The topic of this year's conference will be "Museums (memory + creativity) = social change", encouraging the debate of numerous ideas and experiences based on creativity and with focus on the transforming role of museums through social memory.
More than 2,000 participants are expected to attend the conference, among them museum professionals from ICOM's 31 international committees, representing around 100 countries.
The conference provides an opportunity to discuss latest developments for museum specialists; but also offers speeches, workshops and cultural and social activities held in parallel to the conference (such as cultural visits, visual arts shows, literary events), which are open to the public.
The British Council supports the conference through its program "Transform the museums", which promotes the exchange of experience and the learning of new skills in the field of museology between Brazil and the United Kingdom between 2012 and 2016.
Therefore, the British Council brings four British experts to ICOM, which will discuss contemporary issues in speeches and workshops. They include Viv Golding and Richard Sandell, both from the University of Leicester; Sillar Laurence, curator of The Baltic Centre for Contemporary Art (BALTIC) and David Fleming, director of National Museums Liverpool.
Richard Sandell for example will talk about the relationship between museums and cities' transformation within the meeting of the International Committee for City Museums. And on August 15th, Sharon Granville, executive director of the Liverpool Museum, will lead a workshop on "missions and values" for ICOM's Management Committee in Oi Futuro Flamengo.
Through two stipends from the British Council Capucine Perrot, assistant curator of Contemporary Art and Performance at the Tate Modern, and Dana Andrew, senior coordinator of exhibitions at the Victoria and Albert Museum will also be part of the conference.
The ICOM conference takes place every three years. This year's main venue is the Cidade das Artes in Barra da Tijuca. Registrations for the conference can be made directly at the venue.
What: ICOM Conference and side events
Where: Cidade das Artes, Trevo das Palmeiras, Barra da Tijuca
When: August, 10th to 17th, 9AM to 5:30 PM
Registration: At the venue