By Ben Tavener, Senior Contributing Reporter
RIO DE JANEIRO, BRAZIL – Brazil could overtake the U.S. in terms of soybean production this year to become to the world's largest producer of grain, O Globo newspaper reports. Yet it has been a long uphill climb for Brazil to reach this level of production, and experts are saying that "logistical chaos" – substandard roads, ports and warehouses – mean that farmers do not invest as much as they might otherwise do.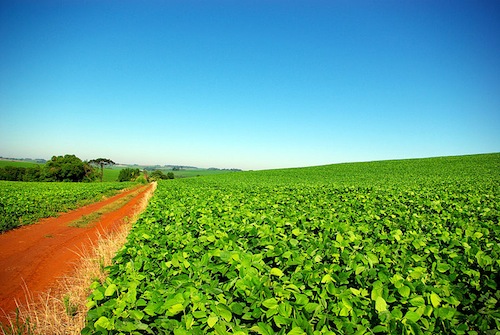 Glauber Silveira, President of the Association of Soy Producers (Aprosoja), says that soybean production in Brazil could be around twenty percent higher if steps were taken to modernize outdated logistics, which would in turn encourage producers to invest more.
Limited access to credit funds has also been highlighted as a stumbling block for the soybean industry, although more funds are now being released – including from private banks.
China account for 69 percent of Brazilian soy exports and therefore reports that two Chinese trading partners canceled consignments of soybeans from Brazil due to logistical problems should act as a wake-up call.
Brazil could double the area used for soybean production, crucially without clearing new areas, by shifting land currently used for grazing livestock and by implementing new technology, it is reported.
Soybean production has already increased 62 percent in the last ten years, according to Agroconsult, as acreage devoted to the crop explanded by 50 percent over the same period.
Brazil currently has 60 million hectares (148 million acres, 231,660 square miles) devoted to soybean production, and another 70 million hectares could be turned to this use – spare acreages available only in Africa, the report says, but Brazil has the upper hand in terms of its ability to employ sophisticated modern technology.
The U.S. Department of Agriculture estimates Brazil's soybean crop harvest in 2012/13 at 83.5 million tons; the U.S. crop is set to reach 82 million tons.
Both the Brazilian and U.S. crops have been hampered by inclement weather over the past year. Traditionally, the United States, Brazil and Argentina represent the vast majority of the world's soybean production.
Read more (in Portuguese.)
* The Rio Times Daily Updates feature is offered to help keep you up-to-date with important news as it happens.