By Sarah de Sainte Croix, Senior Contributing Reporter
RIO DE JANEIRO, BRAZIL – Last month saw the completion of the 3,400 mile Transoceanic Highway, linking the Amazonian state of Acre in Brazil with the ports of Ilo, Matarani and San Juan de Marcona on Peru's Pacific coast. The new road, which was financed primarily by the BNDES and the Andean Development Corporation, was built to provide a gateway for Brazilian agricultural products (primarily beef and soybeans) to Asia, and for Asian products to Brazil's Atlantic coast destined for the Brazilian, European and North American markets.
The completion of the road, which has been eleven years in the making, is a cause for celebration for President Rousseff's troubled transport division, which has lately been marred in controversy. But there is still a long way to go if Brazil's transport infrastructure is to keep pace with its high rate of economic growth.
According to experts, Brazil's disproportionately high logistics costs, which are estimated to be as much as twenty percent of the country's GDP (twice as high as in OECD countries) represent a significant threat to Brazil's continued economic development.
Raphael Martins, a lawyer working in the logistics field, says "Brazil faces major infrastructure problems … Transport of goods has, since the early 1960s, depended heavily on toll roads and trucks. However, [this has become] increasingly inadequate for a continental country, with long distances and valuable raw material stashed away in remote locations."
In addition Brazilian federal highways face challenges of deterioration due to weather conditions as well as heavy usage. The lack of investment means a lack of maintenance of thousands of kilometers, especially the minor highways. Martins comments, "Poor maintenance completes the picture, rendering most of the highways unfit for long drives and heavy cargoes."
Brazil's highways network handles sixty percent of the total transport volume. However, while there are several well-built and well-maintained roads in the economically powerful South and Southwest region, in Amazonas and the North of the country, decent roads are few and far between and many remain unpaved.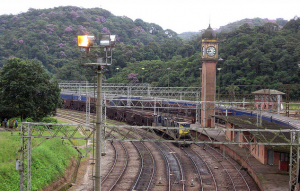 The problems are not only restricted to the highways network. Brazil's rail network is drastically strained, covering just 29,000 km to service a country of almost 8.5 million square kilometers, and much of it has fallen into disrepair.
Furthermore, different track gauges are used in different regions, which restricts the movement of trains within the rail network itself. As a result, just 21 percent of Brazil's cargo is transported by rail, compared to a global average of forty percent, according to a study by Rio's Federal University (UFRJ).
The fees charged by Brazil's harbors are also considerably higher than in other harbors like Antwerp, Singapore and Hamburg. According to DHL's Discover Logistics portal, "Many [Brazilian] ports have tremendous problems … Some lack handling capacities. Ships have reduced capacities because of low navigational-channel depths, and highway and rail connections are inadequate. Added to all of this are poorly trained personnel and a lack of parking for trucks."
According to Martins, despite the opening of the Transoceanic Road, "A large gap still remains between what has been accomplished and what still needs to be done in order to sustain the five percent growth rate envisaged for the next decade."