By Jay Forte, Contributing Reporter
RIO DE JANEIRO, BRAZIL – With Easter falling on Sunday, April 5th, Brazilians are taking advantage of the long holiday weekend, called Semana Santa (Holy Week) which officially started with the federal holiday today, Good Friday. The Ministry of Tourism reported that the country should generate R$3.68 billion during Semana Santa, with religious celebrations and family gatherings that should boost spending during the period.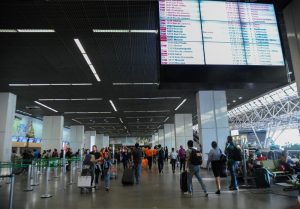 The government report estimates 2.15 million domestic trips will happen for the Easter holiday, each with an average cost of R$1,712.87, including transportation, food and tourism activities.
"Holy Week is a more intense holiday than others. People take the opportunity to enjoy leisure facilities or to visit relatives and friends, in addition to the religious structure," explained the director of the Department of Studies and Research of the Ministry of Tourism, José Francisco Salles Lopes.
According to the report's estimates, São Paulo will have the largest number of trips, with 407,346. It will also be the state with the biggest spending, R$570.1 million. The state of Rio Grande do Sul is in second place in relation to financial transactions, estimated at R$489.4 million and 136,482 trips.
Regarding the number of trips alone, the state of Rio de Janeiro comes in second with 174,277 and estimated expense of $292 million. However some estimates are even higher, taking into account total travelers, almost doubling the amount of people being transported on the bus system alone.
It was reported that more than 300,000 people will pass through the Rodoviária Novo Rio (bus station), in Rio de Janeiro, during the Semana Santa vacation. According to the terminal concessionaire, yesterday (April 2nd) was the busiest day with 45,000 people leave the city. More than eighty percent of tickets purchased are destined towns in the Regiões dos Lagos, Costa Verde and Serrana. On Sunday, about 44,000 returning passengers are expected.
As far as tourism coming into the city of Rio de Janeiro, hotel occupancy during Semana Santa should exceed 55 percent on average, according to the Rio Hotel Association (ABIH-RJ), between Thursday (April 2nd) to Sunday (April 5th). The Ipanema and Leblon are hotels show an occupancy rate 78.99 percent reserved and the hotels of Copacabana and Leme had reported 76.11 percent.
Northeastern states in Brazil also have significant tourism activity: together they will be responsible for handling about R$1 billion. In the state of Bahia alone they will see R$310.2 million in 163,778 trips. According to the report, the Easter holiday boosts the tourist economy and generates impact in various sectors such as the automobile industry, the airline industry, bars and restaurants, hotels and services.