By Juliana Tafur, Contributing Reporter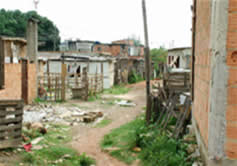 RIO DE JANEIRO – It's summertime in the United States and in Chester, Connecticut, one the most prestigious youth leadership camps is currently underway. Gilvan Silva de Oliveira de Aragzo and Jhonatan Sales Cordeiro are two of the three international students in the program. They are Cariocas from the Terra Encantada favela (Enchanted Land slum), to be exact.
The boys were selected as part of a program ran by an American NGO called BRAYCE, which partners with Camp Hazen YMCA in Connecticut to provide leadership training to marginalized and underprivileged kids from the state of Rio de Janeiro.
"The program aims to develop their self-esteem, motivate them to stay in school, help them move on to obtain a higher education, equip them to get good jobs and realize their potential," says BRAYCE director Richard Calder.
The flimsy shacks and abandoned streets of Terra Encantada were all Jhonatan and Gilvan knew, until now. Their community, built on the site of a former factory, is bordered by a river stream filled with garbage and debris. Located on the linha vermelha (red line), it's a place where the operations of drug gangs are routine.
"The program aims to wean away these youngsters from seeing gangsters as the role models they look up to," said Calder. "The kids who participate in the program are coming back from the U.S. and are saying, 'I might not make a lot of money, but I'll be a leader and manage to stay alive.'"
In its fourth year, BRAYCE has so far sent seven teens to the U.S. For all, Camp Hazen has been the opportunity of a lifetime. During the one-month program, they learn skills such as camp management, planning and scheduling, first aid techniques and life guarding. They also receive training on how to deal with kids, especially as it relates to team building and identifying child abuse.
With this skill set, Calder says the benefit to the favela community is obvious. "When the kids return, they take responsibility and run projects. The friends of the youngsters are noticing this, and are thinking maybe they should also take English lessons so they can be a part of the program," he adds.
But getting into the program isn't easy. Terra Encantada is home to six thousand people, two thousand of them children. Those chosen have proven to be up-and-coming leaders, identified by a Rio NGO called IBISS. A basic knowledge of the English language is also a must, though BRAYCE provides the kids with intensive English classes prior to their departure.
Sophie Beal, who acted in the role of English instructor, talks about the boys' last moments before taking their first flight ever and traveling to the United States. "Gilvan was worried he was going to have to carry around a dictionary, because he thought Americans would speak too fast for him to understand," she said.
"Jhonatan was calm, but his mother worried that she'd never see her son again. She was also very concerned about swine flu, and whether her son needed to travel with a mask." Beal pauses, and then adds: "It took some time to calm her down."
With posters and flowers, families and friends brought the kids to Rio's international airport, and they were on their way. "It was very nice to see what a big event it was for the families. It was certainly the most significant thing that had happened in their lives," said Beal, as she recalled the special moment.
At camp, the kids are reportedly getting along very well with their peers. Although they miss Brazilian diet staples such as rice and beans, they're enjoying American culture, music and fashion. Their English is improving and they're forging long-lasting friendships they never thought they'd make.
"It's really opening their eyes," says Calder, speaking about the impact this experience is having on the Brazilians. At Camp Hazen, he adds: "it doesn't matter how rich your parents are or how poor, they're all the same."
To find out more, go to: http://www.brayce.org/