By Chesney Hearst, Senior Contributing Reporter
RIO DE JANEIRO, BRAZIL – British Bank Barclays and U.S.-based BTIG, a global trading firm, predict that financial woes at Telecom Italia might prompt the sale of Tim Participações SA, or TIM, its part-owned Brazilian subsidiary and the country's second-largest carrier, a move that would shake-up Brazil's telecommunications market and might help Telecom Italia avoid a downgrade in its credit level to "junk" status.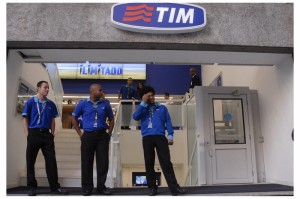 The Italian company needs a €2.2 billion (approximately US$3 billion) reduction in its current debt this year and to raise €7.3 billion (over US$10 billion) in the long-term to avoid the downgrade.
In Brazil, the world's 5th largest wireless market, the move could prove profitable for the TIM's major three mobile-phone provider competitors: Telefonica Brasil SA (owner of Brazil's Vivo), America Movil SAB de CV (which owns Claro) and Oi SA.
After a potential sale, while TIM would be free to arrange any deals or mergers and then submit the terms to the Brazilian regulator Agência Nacional de Telecomunicações (National Telecommunications Agency, ANATEL), a team of Barclays analysts suggested that Anatel would be unlikely to allow a full merger of TIM with a single competitor.
"It's unclear if the regulator is ready to allow consolidation in the market," Walt Piecyk, an analyst at BTIG in New York, told Bloomberg. "You'd have to look to an external buyer for TIM." Potential buyers include British telecom multinational Vodafone and the American DirecTV, an American satellite service provider.
Due to its lower prices and its move to offer unlimited calls before its competitors, among other progressive moves, TIM is currently the second-biggest mobile phone provider in Brazil after Vivo and the company stands as the best option for its parent to raise funds.
"The interest in consolidation for the sale of TIM has nothing to do with how TIM is performing in the market — it has to do with the leverage that exists within its parent company in Europe," Piecyk told Bloomberg. "Nothing has to change at TIM. The need for a sale has everything to do with the parent and nothing to do with how TIM is operating."
Read more (in Portuguese).
* The Rio Times Daily Updates feature is offered to help keep you up-to-date with important news as it happens.