By Andrew Willis, Contributing Reporter
RIO DE JANEIRO, BRAZIL – Imports of gasoline and diesel are set to rise substantially next year at Petrobras, Brazil's semi-state oil company, as refinery capacity fails to keep pace with growing domestic demand. The company's downstream director, Jose Carlos Cosenza, indicated that gasoline imports are predicted to rise from their current position of roughly 75,000 barrels a day to approximately 90,000 barrels by 2014.
Diesel imports will double to roughly 300,000 barrels a day over the same period, Cosenza said, according to O Globo.
Last month Petrobras reported its first quarterly loss (April – June) in thirteen years, partially a result of the company's growing fuel imports from abroad. Government-imposed price caps at the pumps mean imported fuel is frequently sold at a loss on the domestic market.
Analysts say this may be about to change. "The main reason that the price of gas will go up so much in the future is that it has been kept artificially low in the past," Jim Kappeler, a long-time American expat working in the oil industry, told The Rio Times.
Petrobras is currently developing a number of oil refineries throughout Brazil in order to boost its fuel production, at an investment cost of US$71.6 billion through to 2016. "A great effort is being made to minimize imports of derivatives," Petrobras' Cosenza said.
Refinery investments have already helped the company increase gasoline production by 44,000 barrels a day and diesel by 37,000 barrels a day in the first half of 2012, but demand for fuel in the world's sixth largest economy is expanding at a faster rate.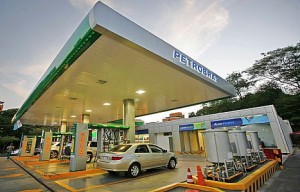 Building delays at new refineries are partly to blame for the rising fuel imports, with the Abreu e Lima refinery near Recife now scheduled for completion in November 2014, four years behind schedule.
Petrobras' current refining capacity is roughly 2.1 million barrels a day, with the Abreu e Lima refinery set to boost this figure by a further 230,000 barrels a day, Cosenza said.
Abreu e Lima is a joint venture with Petroleos de Venezuela SA (PdVSA), but Petrobras is still waiting for its Venezuelan partner to complete the necessary loan guarantees to participate in the project. "The refinery … was supposed to be a joint venture between Brazil and Venezuela, but so far Brazil has seen no money," said Jim Kappeler.
The Venezuelan company is also struggling under rising fuel imports at the moment after a massive explosion at the country's largest oil refinery last month severely hit gasoline production. Flames reaching 100ft high could still be seen a day after the huge explosion on August 25th tore through the Amuay refinery in Punto Fijo, killing at least 41 people.
A second new refinery in Brazil, named the Comperj, is scheduled to start up in April 2015, with an initial processing speed of 165,000 barrels a day, the Petrobras official said. Further refineries to be built in the country's northeast are unlikely to start up before 2017, he added.
While the Petrobras refining division received its first fuel price increase since 2006 this June, the division still lost R$11.6 billion on refining in the first half of 2012. To ease the need for imports, the firm expects Brazil will raise the amount of ethanol required in the country's domestic gasoline blend to 25 percent in 2013, up from twenty percent today.