By Lise Alves, Senior Contributing Reporter
SÃO PAULO, BRAZIL – Despite the fallout from the on-going corruption scandal which has tarnished Brazil's largest state-controlled company, Petrobras, the oil giant announced on Thursday, March 19th, that the output from the Santos and Campos basin pre-salt clusters reached record levels in February. According to a press release, the company's output on February 26th, set a record by registering 555,000 barrels per day (bpd).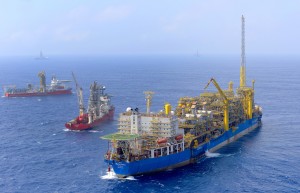 Despite the record in pre-salt clusters, Petrobras' total oil and natural gas production in February 2015 was 2.801 million barrels of oil equivalent per day (boed), down by 1.5 percent from January's total of 2.845 million boed.
The decrease in production, according to the company, was due to planned maintenance shutdowns of platforms P-19, in the Marlim field and P-58, in the Parque das Baleias field, both located in the Campos Basin. FPSO Cidade de Angra dos Reis, in the Santos basin's Lula field, was also shut down for scheduled maintenance.
The decrease in output was partially compensated by seven new offshore wells in the Campos and Santos Basins which started operations in February.
At the beginning of the month Petrobras announced that it had approved a plan to sell assets worth US$13.7 billion in 2015 and 2016 in order to cut costs and reduce its debts. The company at the time, however, stressed that pre-salt programs would not be affected by the cuts.
According to local news media Petrobras' net debt jumped from US$62 billion at the beginning of 2012 to US$114 billion in September of 2014 and its debt continues to rise, since more than 75 percent of it is in U.S. dollars.