By Andrew Willis, Contributing Reporter
RIO DE JANEIRO, BRAZIL – Profits at Brazil's state-led oil company, Petrobras, fell twelve percent during the three months ending September 30th, compared to the same period last year, according to results published last week. The figures were an improvement on the second quarter of this year, however, when Petrobras reported its first quarterly loss in over a decade.
In third quarter results Friday, October 26th, Petrobras said net income for the three months was R$5.57 billion (US$2.75 billion), down from R$6.34 billion in the third quarter of 2011.
"Although our results were, to a certain extent, an improvement, we continue working with persistence and focus to recover profitability and improve our performance," Petrobras CEO Maria das Graças Silva Foster said in a statement.
The long-time Petrobras veteran was appointed by President Dilma Rousseff earlier this year to lead the firm in which the government maintains a majority stake. Since then, both upstream and downstream problems have continued to hamper the company's performance.
Oil production fell two percent during the third quarter, compared to the same period a year ago, as the company continues to carry out essential maintenance work. "Oil output fell this quarter due to longer-than-planned operational stoppages, especially in September. These stoppages are absolutely necessary to ensure operational safety and the sustainable recovery in production," Foster said.
Lifting costs, the average expense to produce one barrel of oil equivalent, also rose during the quarter. Local content rules set by former President Luiz Inacio Lula da Silva stipulate that Petrobras must purchase as much as seventy percent of its equipment from domestic suppliers, adding to costs.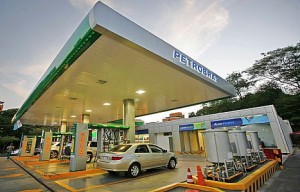 A wage agreement with oil workers earlier this month helped to stave off a potentially costly strike but will also see salaries increase. The firm subsequently announced that it plans to cut as much as R$15 billion from operational costs next year.
The failure of Petrobras refineries to keep pace with Brazil's growing demand for gasoline and diesel also hit profits during the third quarter, forcing the company to increase expensive imports of the oil-derived products. The company recorded a R$5.65 billion loss in its refining operations during the three month period, less than the previous quarters but greater than the same period last year.
Concerned by rising inflation, Brazil's government has prevented Petrobras from increasing fuel prices to international levels, forcing Brazilian refineries to sell imported fuel at a loss. The government did sanction a price rise this summer, however, helping to reduce losses during the third quarter.
Foster increased petrol prices by 7.83 percent in June and diesel by 3.94 percent the same month, followed by another 6 percent for diesel in July. The price increases pushed revenues up sixteen percent to R$73.8 billion during the third quarter. The strong revenue growth will help fund Petrobras's ambitious $237 billion investment plan through to 2016.
The relative stability in recent months of the real, Brazil's currency, also helped Petrobras to avoid the foreign-exchange losses that pushed the firm into the red during the second quarter. Brazil has been intentionally making short-term capital flows unattractive to outside markets to maintain the reduction seen in the country's now record-low interest rates, as well as weaken the real to help industry.