By Ben Tavener, Senior Contributing Reporter
RIO DE JANEIRO, BRAZIL – At a time when Brazil's economy has been slowing recent reports indicate President Rousseff has been criticized for holding up R$400 billion (US$198 billion) of investments in industry and infrastructure projects throughout Brazil at the final hurdle. While the president remains popular with record-breaking approval ratings, some question the centralized decision making within the administration.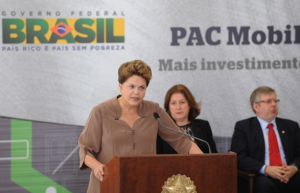 Most of the funds caught up in the system are said to be private investments. According to O Globo many of them are destined for the mining industry and infrastructure projects with regard to Brazil's transportation and energy networks.
Some of the projects have been discussed for months, even years, but are forced to wait for the president to sign off on them. The result is that private investors are not as forthcoming as they were, for example, when growth in Brazil's economy reached the dizzy heights of 7.5 percent two years ago.
Coupled with other facts, such as a lack of clarity surrounding detailed plans for the projects and other legal concerns, investors are being deterred and the knock-on effect, economists warn, is even slower growth in Brazil's economy.
The biggest slice of funding yet to get its presidential seal of approval relates to the new Mining Code, which has had some R$350 billion in private investments earmarked by the Energy and Mining Ministry for projects for the next twenty years.
Other areas include projects relating to infrastructure, such as the country's vital ports, where R$11 billion are being held up, respectively, according to the Brazilian Association of Port Terminals (ABTP).
"Legal uncertainties put off investments and weaken the ports as the banks don't want to lend us money and our clients shy away from agreeing to long-term contracts," says ABTP Advisor Roberto Zitelmann de Oliva.
A R$37 billion project funded through Brazil's electricity giant Electrobrás is still standing without confirmation from the top level, and investments raised to fund civil aviation in Brazil, reportedly totaling R$25 billion, are also in the bottleneck.
Insiders say that the work conducted by the presidential decision-making team is monitoring by President Rousseff at every step, and even more rigorously scrutinized when their work relates to infrastructure projects and the Growth Acceleration Program (PAC).
Investment has also stalled in Brazil more generally since the slowdown of the economy became more evident, posting growth of just 0.2 percent for both quarters in the past six months.
However, the head of Brazil's Central Bank, Alexandre Tombini, has said that the continuing cycle of interest rate cuts, coupled with tax breaks and increased consumer spending will soon be taking effect, saying: "From this point you're going to start seeing the results of the measures we've taken."
Economists have voiced their concern that the government's approach (and that of its predecessor under President Lula) to boost growth by facilitating the wider availability of cheap credit for consumers is already untenable, and that the government must focus on investment, both domestic and international.