By Fiona Hurrell, Contributing Reporter
RIO DE JANEIRO, BRAZIL – Five years ago Rober Borsato, a Carioca living in America, decided to return to his native Brazil with the idea to open a male only hair and grooming salon. His first endeavor began in 2007 at a small space in Flamengo that formed the base of the enterprise which he named "RED Salon Homem." The brand has since expanded and now includes salons in Copacabana, Ipanema and Centro.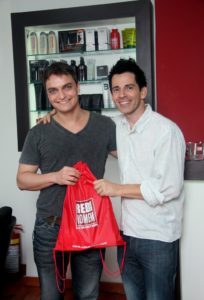 "There was nothing available for men in terms of hairdressers," explains Borsato, speaking of the idea behind the business. "Either you had to go to a barber shop which was often old-fashioned or outdated, or visit a unisex salon which would be full of women and not a comfortable atmosphere for a guy."
Borsato's British business partner and manager of the Copacabana branch, Marc Pearce, went on to add "RED salon is the only brand of its kind in Rio. We wanted to create something clean and contemporary, like a modern, upmarket lounge."
Without a doubt, the interior design of the salons has played a huge role. The decor consists of dark wood and leather furniture with mini flat-screen TVs installed at every work station, allowing customers to catch up on the latest sports or comedy shows while having their hair cut.
Borsato affirms "Kids and grownups alike love the RED salon because we have PlayStation 3 available, a variety of men's magazines and we can even offer our adult customers a refreshing bottle of beer."
The RED Salon is affiliated with some top-class, worldwide products and brands such as Redken, L'Oreal and American Crew, who made the RED Salon their Brazilian representatives back in 2007. Borsato adds "We have also started using products by Sapien which are organic, environmentally friendly and aren't tested on animals."
As the only business of its kind in Rio, the RED Salon Homen has naturally attracted many influential and celebrity customers over the years, including business men from the French and German consulates and the former British Consulate General, Tim Flear.
Many customers however, famous or not, visit the salon in search of more than just a simple haircut. "We offer a wide range of services," says Borsato. "We do chemical hair straightening, coloring, sports massage, body care, facial care, waxing and manicures."
In response to the growing success of this unique enterprise, there is the chance for other business-minded professionals to open franchise stores elsewhere in the city. Marc Pearce states "The business lends itself nicely to a franchise and inquiries are increasing along with our growing popularity.
Borsato adds "We are being featured in the media quite regularly and are now represented by good PR firm and marketing manager. Our hope is to have a salon in every district."
The first franchise of the RED Salon Homem was opened in Ipanema by a British expatriate Richard Pollard. Since then, news of the RED Salon has reached other major cities in Brazil. Borsato says "We have a lot of inquiries about franchising in São Paulo and Porto Alegre, but at the moment we are concentrating on Rio."
Pearce agrees, claiming "There's no reason why we shouldn't branch out to other cities and São Paulo will hopefully be next on the list, but right now Rio holds preference."