By Fiona Hurrell, Contributing Reporter
RIO DE JANEIRO, BRAZIL – Whilst the world's financial giants have suffered under a crippling economic recession, Brazil has prospered and as a result, the city of Rio de Janeiro has become a popular location for both Brazilian and international financial firms. Though not, by any means, an in-expensive city , Rio offers a quality of life and budding potential in the oil industry and 2016 Olympics.
Its position has become so appealing that a number of recognized individuals from the banking industry of São Paulo, considered the Financial capital of South America, have relocated to Rio and are now applying their services to the city's emerging economic opportunities.
Vice President Ricardo Fernandez of U.S. financial institution, Hamilton Lane, explains why Rio emanates as the most suitable choice, "Hamilton Lane chose to open its office in Rio for several reasons, one of which was the fact that most institutional investors, including some of the largest pension funds, are based out of Rio."
Unlike São Paulo and New York however, many of these financial firms are avoiding the obvious business center locations, and are instead opting for the quieter, less obvious area of Leblon in the heart of Rio's Zona Sul (South Zone).
The most recognizable arrival in Leblon may be Arminio Fraga, former president of the Central Bank (BC) and head of Gávea Investments, with R$11.8 billion under management and approximately 140 employees between Rio and São Paulo. In late October 2010, a majority interest of the company was sold to J.P. Morgan Asset Management, the global asset management arm of J.P. Morgan.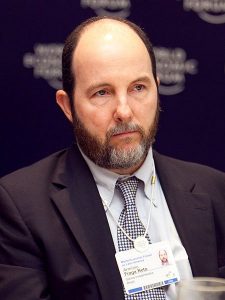 Fraga moved his expanding company to the area a year ago and it would appear that the successful relocation has attracted others, such as Apogee Investments, who now occupy offices in the Shopping Leblon building.
Howard Borsden, CEO of Looking for Dylan financial advisers, is not surprised by Leblon's popularity. He states "the quality of life is assumed to be better in Zona Sul. Hedge funds and asset managers typically outsource their activities and therefore only require one or two floors of the relatively smaller office buildings in Leblon."
Whilst Rio's appeal appears to be gaining momentum as a financial center, Borsden puts it into context: "Smaller hedge funds and asset managers are evolving from corporate restructurings and teams breaking away to form their own businesses, but it is still in the development stage compared to São Paulo."
Even so, with business growth undeniably strong in the city, other improvements have attracted the attention of Hamilton Lane VP Fernandez, who states "Another advantage of being located in Rio is that there are several prestigious universities here, which makes it an attractive place to hire promising talent."
In terms of foreign investment, the last three months have seen companies take quite a battering with the federation of Industries in São Paulo predicting a loss of up to ten percent last August, in light of new threats to the global economy rippling from the U.S and European debt crisis.
Nevertheless, this does not appear to have deterred International financial firms such as Hamilton Lane. Chief Information Officer for Hamilton Lane, Erik Hirsch remains assured, stating "We view Brazil as an increasingly important component of the global equity landscape. Rio was the right combination of appropriate talent and establishing a presence in an important location for the Brazilian market."