By Kate Rintoul, Contributing Reporter
RIO DE JANEIRO, BRAZIL – Many people fantasize about packing a bag and moving to a new country, but in reality relocating your life is never that easy, and Rio de Janeiro is no exception. If you have children, then the problems are multiplied as you need to consider schools, day care, and activities for them.
With its numerous play parks, expansive beaches, and exotic wildlife, Rio might seem like an ideal place to raise a family, but finding information can take some navigation and things are not always easy to find. Luckily for parents moving to Rio, there is an active online community where they can connect with other families.
An example is Rio Playgroup which is a Facebook group for "foreigners and newcomers to Rio to ask questions and share information and to meet new people." Growing from a handful of parents, the group now boasts over 1,000 engaged members who come together to share advice and knowledge.
Tiffany Kearney, originally from Boston, has traveled in South America on and off since 1999 and has lived more permanently in Rio for the last seven years. Kearney joined Rio Playgroup four years ago. "I never really sought out the expat community, except maybe professionally here and there, until my daughter was born. Life really does change once kids are involved and I felt a sudden need to connect with people coming from a similar culture. I also realized I had practical questions that were hard to find answers to on my own," Kearney says.
​For ​Aglika Angelova, juggling​ motherhood with co-running the Mexican restaurant, Azteka, ​means she is ​is used to organizing her life and work with modern technology, so this online platform appealed to her. Angelova joined the Rio Playgroup about two years ago, primarily to find out information, but the group has played a bigger part in her life since.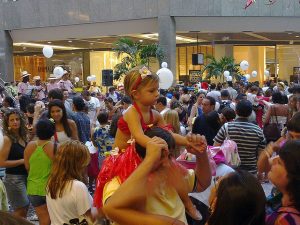 "From where to find birthday cake delivery to specific medical doctors to diaper creams to fresh fish markets – the group provides extensive info based on all its members' experience living in Rio for shorter or longer periods of time. I have met many wonderful parents and have started very deep friendships out of this group. It is absolutely vital for me to have this community as a source for virtually anything."
Mirroring the success of other online platforms for parents, Rio Playgroup offers a place for people to share information but also to express their feelings and wisdom, which are often insightful and entertaining.
"I use the group to post questions and sometimes respond with answers regarding life in Rio, with a focus on children, but there is a wider scope now. I've learned things I never had a reason to know about before – learning about the school scene, finding doctors/dentists, things to do on a rainy day, websites that deliver books in English, the best way to have packages sent from abroad, etc. It's an amazing resource," Kearney explains.
Rio Playgroup also organize meet ups for families, which have grown in scale with the group's membership. "In the beginning the focus was the 'Playgroup' aspect, mostly moms and some dads met Tuesday mornings with small children for a play date and it gave the parents time to chat. When I joined there were about seventy people, it was intimate. Now there are just over a thousand members, which is incredible. Playgroup still happens on Tuesdays, but it has grown in to much more than that," Kearney adds.