By Lisa Flueckiger, Contributing Reporter
RIO DE JANEIRO, BRAZIL – With progress in the construction of new hotels, the city of Rio de Janeiro will reach the critical number of hotel beds needed for the Olympic Games, which will take place in August 2016. The 48,000 beds deemed necessary for the sports event will be attained by the end of this year.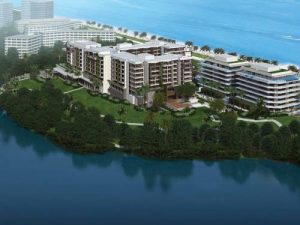 For a long time, one of the fears of hosting the Olympic Games in Rio was the lack of hotel beds in the city. Therefore, with the successful bid for the Games numerous new hotel licenses were granted and construction started soon after.
Yet, many feared that the critical number would not be reached in time, as delays in the construction business are common.
However, at this moment, Rio de Janeiro has around 34,000 hotel beds available and in 2015 alone, around 15,000 hotel beds will be added to this inventory. Of those over 10,500 are being constructed in Barra da Tijuca, the main location of the Olympic Games.
In 2010, the number of beds in accommodations in Rio had been at 31,700 and in 2016 it is to reach around 51,100 beds. Almost 37,000 of these beds will be in hotels, while around 14,000 are in alternative lodging, such as hostels, guesthouses and motels. Between 2010 and 2016 seventy new hotels were granted, among them seven five stars hotels and 25 four stars.
Barra da Tijuca for example will receive a Hilton hotel, a Grand Hyatt Hotel and Residence and a Trump Hotel, both claiming to be even six stars hotels, three new hotels from the Windsor chain, as well as new hotels from the Pestana and Blue Tree chains.
The new challenge of the Rio Hotel Association, ABIH-RJ, will then be to keep these hotel rooms occupied after the Games. The goal is to maintain an average occupation rate of over seventy percent.
"We will even exceed expectations in terms of number of rooms and hotels for 2016. But that throws us into a short-term problematic reality, in an economic bad time. We run the risk, for example in case of oversupply, of price decreases after the Olympics," Alexandre Sampaio, vice president of SindRio, the hotel, bar and restaurant union, cautioned.
However, according to ABIH-RJ President Alfredo Lopes, Rio has a great potential to increase the numbers of visitors traveling to the city each year. Although Lopes recognized that Barra da Tijuca as a destination will need increased marketing efforts.
Brazil receives around six million international visitors a year, 34 percent of which travel to Rio de Janeiro. In comparison, the city of Paris welcomes 23 million tourists per year alone.