By William Jones, Contributing Reporter
RIO DE JANEIRO, BRAZIL – President Dilma Rousseff has said that the shipbuilding industry is expected to reach the milestone of hiring 100,000 workers in 2017. Speaking on her radio program "Coffee with the President" the Brazilian President said that the industry is "strong" and the country has Petrobras to thank for this.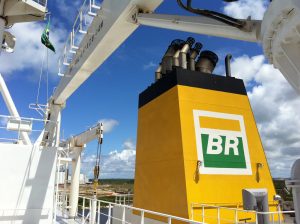 Rousseff and Petrobras have both been under scrutiny over the past few months due to the irregularities with the state-controlled oil giant Petrobras pricey acquisition an oil refinery in Pasadena, United States. Rousseff is said to have approved of an expensive and irregular purchase when she was at Petrobras in 2006, however Rousseff has blamed a flawed report for her decision.
Former Petrobras president Sergio Gabrielli has publicly stated that Rousseff "cannot escape responsibility," however, Brazil's president has come forward in defense of Petrobras and its importance to the Brazilian public and economy.
"Do you know how many jobs exist in the marine industry in 2003?" Rousseff asked on her radio show. "7,465. Until 2003, the Brazilian shipbuilding industry was disappearing. The few remaining shipyards only made minor repairs on platforms and ships," she explained.
"Thanks to Petrobras' purchase policies [local content] that began during the Lula government and were developed by my government, a dynamic and competitive shipbuilding industry has been reborn, which will compete in the market with the greatest naval industries in the world," said Rousseff.
Brazilian law requires that oil companies purchase goods and services domestically to stimulate Brazil's industrial sector. Some believe these local content policies hurt profits, raise costs and affect production negatively.
Rousseff reminded listeners that production of oil industry-related products has increased in Brazil. "In 2014 alone, there are eighteen platforms, 28 drilling rigs and 43 tankers under construction or contracted to be built here in Brazil," she said.
Read more (in Portuguese).
* The Rio Times Daily Updates feature is offered to help keep you up-to-date with important news as it happens.