By Stephanie Foden, Contributing Reporter
SALVADOR, BRAZIL – An important year is ahead for Brazil as it steps further into international spotlight to host one of the biggest sports events on the globe. The FIFA Word Cup football (soccer) tournament is sure to boost tourism in the country, which alone is estimated to see 600,000 foreign and three million Brazilian travelers.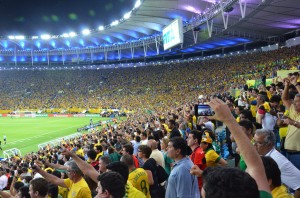 It is difficult to predict just exactly how many people will visit Brazil throughout the upcoming year, but the country's tourist numbers have been skyrocketing for the past ten years. In 2012, even as the economy cooled, the six percent growth in tourism surpassed the global annual average by two percent.
Tourists from Brazil and abroad are predicted to spend R$25 billion at during the World Cup, according to estimates from the Tourism Ministry, Embratur. Most of this spending is predicted to come from Brazilians, expected to spend R$18.3 billion during the competition.
The last country to host the World Cup, South Africa saw its tourist exchange earnings threshold jump from about US$9 billion (R$20.7 billion) before the 2010 World Cup to US$11 billion afterwards. The FIFA event impacted tourism in the tip of Southern Africa immensely by helping renew the negative perception the country has on safety, security and as a value-for-money destination.
"We hope tourism in Brazil rises to a new level after the World Cup," Vinícius Lummertz, National Secretary of Public Policies, told The Rio Times. "With infrastructure improvements that increase the competitiveness of Brazil as a tourist destination, and the high exposure of the country abroad, I expect to see a significant increase in foreign tourists – but mainly more Brazilians traveling through Brazil."
It seems as though many Brazilians have been enjoying new levels of travel interest: according to a study by the Ministry of Tourism, willingness to travel in the country has grown by nearly six percent over the past year. Brazilians with travel plans also grew from 32 percent to 33.5 percent between October 2012 and October 2013.
The majority of the people intending to travel came from the Northeast, followed by the Southeast and South. Two thousand people were surveyed in seven major Brazilian cities: Belo Horizonte, Brasília, Porto Alegre, Recife, Rio de Janeiro, Salvador and São Paulo.
"The idea of making the World Cup in twelve cities in all regions of Brazil aims to attract tourists to all of these areas, of course," explains Lummertz. "Brazil is a very diverse destination, but we can expect increases in places where today there are already many tourists. We also want to take the Cup to extend visitation to our national parks, our main tourist assets that currently don't have the amount of visitors compatible with its potential."
With a surge of both international and domestic visitors heading to Brazil, there are concerns that the country will not be able to keep up with the demand. The South American giant may offer picturesque scenes with a strong vibrant culture, but many of its cities lack modern accessibility, infrastructure, accommodation and security.
There are a number of infrastructure works underway in the host cities targeting public transportation, signalling and accessibility. Some 25,000 new hotel rooms are being built and fifteen airports in twelve cities expanded.