By Jay Forte, Contributing Reporter
RIO DE JANEIRO, BRAZIL – Students from The British School, Rio de Janeiro have recently completed a course in the month of November aimed at engaging in social development causes in Brazil. The class helped design, plan and deliver educational lessons to underprivileged and at risk children at PESCA (Projeto Educacional e Social Casa da Amizade – Educational and Social Project – Casa da Amizade).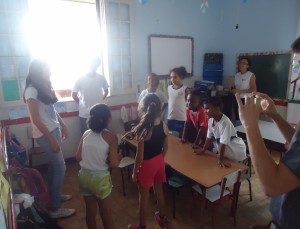 As part of the Global Perspectives IGCSE, the students of The British School, complete a group work activity, worth thirty percent of their course. The idea of supporting this NGO came as part of the students' Global Perspectives group project and the school felt that this offered the students the perfect opportunity to teach and learn from people from a disadvantaged background.
Participating student Ana Carolina Guimarães explained; "In our Global Perspective lessons, one of our topics was about the differences that exist today around the world. Our Global Perspectives class was taken to PESCA which is a school community that gives lesson to less fortunate children."
"Before we went to PESCA, we had to complete a lesson plan to teach the children of a specific age group. In the lesson plan, we had to fill in on what the warm-up would be, the main activities which we would do and the plenary which would end the project," recounted Guimarães.
For more than fifty years the NGO called PESCA has been working with impoverished communities around Engenho Novo, Rio de Janeiro, catering specifically for educational and social needs. In 1956, they received a donation of the property in Rua Miguel Galvão, 30 which became their headquarters, at that time an American Lady called Catherine Flo Chappell was the director of the institution.
The NGO PESCA has worked at promoting a better life for those in need by offering: sport and leisure activities, nursery for young children, activities for school-age children, digital training, adult literacy classes, support for elderly people, and community service in; psychology, speech, social, legal advice and more.
The British School believes that supporting PESCA is a tremendous experience, both academic and social, for all involved. Guimarães said, "I had never done something like this before and I was shocked on how many different experiences that this project leads us to. […] These were unforgettable moments and one that I will always cherish in my heart."
The British School, Rio de Janeiro, founded in 1924, has a long history of social and environmental projects, teaching their students to respect and value the world they live in. In 2012, they also founded a separate The British School Charity to assist various communities throughout Rio de Janeiro through different projects.
* This is a Sponsored article by The British School, Rio de Janeiro.