By Sarah de Sainte Croix, Senior Contributing Reporter
RIO DE JANEIRO, BRAZIL – Vinema Multióleos Vegetais, an agribusiness company from Rio Grande do Sul in the South of Brazil, is pioneering a groundbreaking project which uses byproducts from the rice industry to produce bio-fuel and ethanol products. The idea is to use rice grains which have been graded unfit for human consumption – those which are deemed stained, chalky or broken – and turn them into ethanol, thereby creating an alternative fuel source for the region.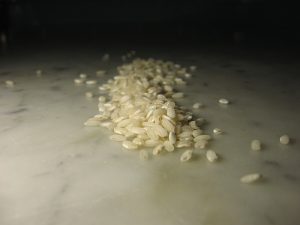 According to Vilson Neumann Machado, Head of Research and Development at Vinema, the company plans to install six rice ethanol bio refineries by 2020.
Each will have the capacity to produce 300,000 liters of ethanol per day, and 100 million liters per year – a total output by the company of 600 million liters per year, generated from 1.5 million tons of waste rice. The first plant is scheduled to be up and running by 2014.
Rio Grande do Sul is the rice bowl of Brazil, producing more than half of the country's total output. The state produced nine million tons in the harvest of 2010/2011, of which fourteen percent was considered substandard.
However, he explains that in recent years production has been too buoyant and the overproduction of rice has almost broken Brazil's rice industry. "Because [rice] production has exceeded consumption [for some time now], Brazil has a stockpile of around 2.5 million tons sitting in warehouses which has caused the price paid to the producers to [plummet and] remain low for several years in a row, making the cultivation of rice almost unfeasible."
The situation got so bad that in 2011 the government stepped in with a rescue package of US$1.35 billion in order to keep the production chain afloat. But Vinema hopes that their ethanol initiative might have a positive effect on market prices for producers. Machado comments, "There is nothing better than finding an economically viable alternative for consuming this rice."
The region currently has just one ethanol producing plant which outputs six million liters per year of non-rice derived ethanol. However, the state uses around 1.35 billion liters of ethanol per year in the form of fuel (anhydrous and hydrated), alcoholic beverages, solvents, and in the chemical and plastics industries.
Machado says, "[The state] imports more than 99.9 percent of [the ethanol] it consumes, and as a result, it is effectively exporting tax money and importing labor from other Brazilian states."
"For us in southern Rio Grande do Sul, rice production has been our vocation for over a hundred years. We have technology of the highest standard, we are well known for our rice crop, and we have [optimum] climate, soil and water conditions," Machado says.
Even so, some of the state's lowland rice growing areas have become infested with pests in recent years which has left their crops unsuitable for human consumption. According to Machado, however, only the starch from the grain is required for his process, which gives this otherwise wasted rice a productive destination.
He says, "I believe that rice can enter the bio-fuels market, because among the cereals and oleaginous rice, it is the third most produced grain in the world. It is established and producing well on all continents."