By Chesney Hearst, Contributing Reporter
RIO DE JANEIRO, BRAZIL – On Thursday, May 2nd the Agência Nacional de Telecomunicações (National Telecommunications Agency, ANATEL) issued fines of over R$9.5 million to telecommunications provider TIM. The company reportedly interrupted and dropped numerous cellular calls, disrupting services for users of its prepaid Infinity plans.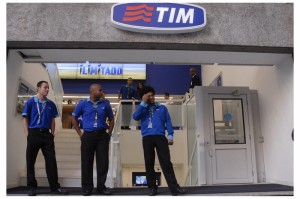 ANATEL issued a statement announcing that Tim Celular S.A. breached its quality obligations under the Personal Mobile Service (SMP) provisions and will face fines totaling R$9,576,030.14.
The breaches were discovered during an audit which took place between August 12, 2010 and March 8th, 2012. During that time period the report states, "there was evidence of discriminatory treatment to Tim S.A. users of the prepaid Infinity plan compared with postpaid Liberty plan users, with a view to earn profit from the restarting of calls."
O Globo reported that TIM also issued a release on Thursday saying that it has always maintained transparency and cooperated fully with ANATEL. The statement read in part, "In this sense, [TIM] confirms that since the beginning of the process, it has cooperated with the regulator providing all the necessary explanations and even studies of independent audits proving the absence of irregularities."
In its statement TIM also pointed to a recently released quarterly report for August to October 2012. The report shows that the telecommunications provider had presented results within their target ranges in most indicators during that quarter and that their highest rates of dropped calls during that time period were less than two percent.
News of the fines comes shortly after TIM officially launched on Tuesday, April 30th, its fourth generation (4G) mobile internet services in the six host cities of the FIFA Confederations Cup. TIM was proceeded by telecommunications operators Claro and Oi, who launched their high-speed services eariler in April.
TIM Celular S.A. is a Brazilian subsidiary of Telecom Italia Mobile and operates throughout the country. The provider now has the right to appeal the ANATEL decision.
Read more (in Portuguese).
* The Rio Times Daily Updates feature is offered to help keep you up-to-date with important news as it happens.